Ernst Lubitsch.
Repeat viewing:8:I Don't Want to Be a Man (1918)7.
Repeat viewing:9:The Oyster Princess (1919)8.
Repeat viewing:10:The Doll (1919)9.
Repeat viewing:11:Sumurun (1920)7.
Repeat viewing:12:The Wildcat (1921)9.
FTV:13:Deception (1920)7.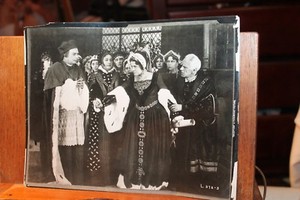 Stomping round his kingdom, Emil Jannings (the very first actor to win Best Actor at the Oscars) gives an excellent turn as Henry VIII, a big baby who bounces with glee when he gets what he wants, which is brushed aside with a furious temper tantrum, when Henry wants to throw away people he regards as mere playthings.Contrasting Jannings performance, Henny Porten gives a delicate performance as Boleyn, sparkling with youthful enthusiasm when she meet cute with Henry, which Porten gradually dims, as Boleyn confronts the reality of her marriage, and life facing the axe.
Spanning aross a run time of over 2 hours, the screenplay by Hanns Kraly & Norbert Falk sadly struggles to build a real sense of the declining state of Henry and Boleyn's relationship, instead going for a stop/start approach, leading to awkward moments of lightness appearing straight after serious sequences of a marriage falling apart.Following from making Madame Dubarry a year earlier with another Costume Drama epic, direting auteur Ernst Lubitsch is joined by cinematographer Theodor Sparkuhl in bringing The Lubitsch Touch to the vast wide-shots of the glittering, richly detailed costumes and sets, expertly captured by Lubitsch with an inventive, stylish use of iris effects, emphasizing the physical, and psychologically imposing figure of Henry on Boleyn.