1970s Challenge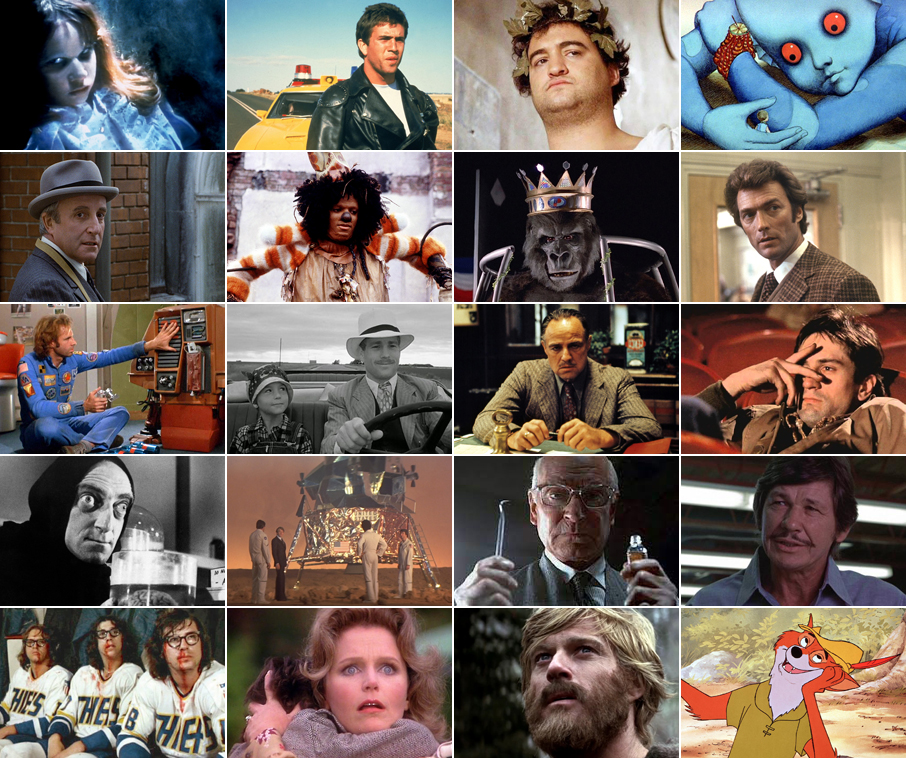 Welcome to the 1970s Challenge!
Challenge runs from June 1, 2023 to June 30, 2023 in your local time zone.
Goal:
Watch movies/tv episodes from the 1970s.
Rules:
- Anything you watch must have been released in the 1970s according to IMDb.
- Each feature film (at least 40 minutes) counts as one point.
- 80 minutes of short films or miniseries/TV episodes counts as one entry.
- Please include year of release when listing your viewings.
- Do not edit your posts to add new watches, just create a new one.
- Try to give an indication of how much you liked/disliked your watchings (reviews, comments, ratings,...)
- Rewatches are allowed and are good for the soul.
Previous Editions:
2012 - Won by burneyfan with 39 points.
2018 - Won by sol with 87 points.
2020 - Won by flavo5000 with 221 points.
Official Lists:
IMDb's 1970s Top 50
Unofficial Lists:
ICM Forum's Favourite Movies of the 1970s
Bonus Challenge - IMDb tags
Watch films with different IMDb tags. Some shows may deserve a tag that is not listed on IMDb, but we are only going by tags that are actually there. Feel free to submit a correction to IMDb to try and get a different tag added if you like.
You can only pick one tag per movie. If you watch The Godfather (1972) then you can choose either Crime or Drama, but not both.
You can only pick one tag per tv show, unless you watch complete seasons in which case you can choose a different tag for the next season. Example:
Barney Miller Season 1 (1975) - #Comedy
Barney Miller Season 2 (1976) - #Drama
Eligible Tags (22)

#Action
#Adventure
#Animation
#Biography
#Comedy
#Crime
#Documentary
#Drama
#Family
#Fantasy
#History
#Horror
#Music
#Musical
#Mystery
#Romance
#Sci-Fi
#Short - You need at least 80 minutes of 1970s shorts for this one
#Sport
#Thriller
#War
#Western

note - I left Film-Noir out because I couldn't find any 1970s movies with that tag
| | | | |
| --- | --- | --- | --- |
| Rank | Participant | # of Points | Bonus |
| 1 | flavo5000 | 186 | Second to Finish |
| 2 | gunnar | 165 | First to Finish |
| 3 | peeptoad | 44 | Third to Finish |
| 4 | RogerTheMovieManiac88 | 42 | Sixth to Finish |
| 5 | Melvelet | 40 | 15 |
| 6 | jdidaco | 36 | 12 |
| 7 | sol | 30 | Fourth to Finish |
| 8 | magnusbernhardsen | 27 | 14 |
| 9 | Tngy | 22 | Fifth to Finish |
| 10 | AB537 | 20 | 11 |
| 11 | Lonewolf2003 | 15 | 12 |
| 12 | kongs_speech | 12 | 0 |
| 12 | PopperTheKungFu-Dragon | 12 | 10 |
| 12 | VincentPrice | 12 | 8 |
| 15 | cinephage | 10 | 6 |
| 16 | maxwelldeux | 9 | 7 |
| 17 | ororama | 8 | 0 |
| 17 | Silga | 8 | 8 |
| 19 | blocho | 7 | 0 |
| 20 | DudeLanez | 6 | 6 |
| 20 | pitchorneirda | 6 | 0 |
| 22 | Ebbywebby | 5 | 0 |
| 23 | Lakigigar | 3 | 2 |
| | Total | 725 | |