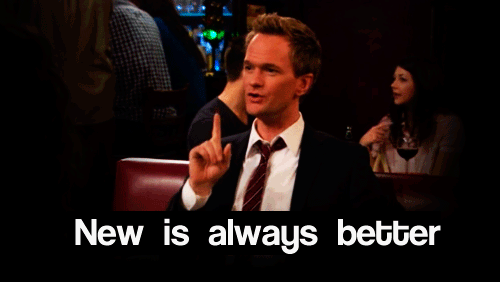 New Releases Challenge
Since many here watch a lot of movies from all decades in this challenge we will focus on new movies only.
Goal
Watch as many movies from 2022 or 2023 as you can. Discuss them. But don't mention older movies. A 2021 movie? Please - so passe. Something from 2020? Hindsight tells me it's not worth it. Earlier in the 2000s? I'm not a historian - don't bother me with it. And god forbid if the first number of the year starts with a 1... you'll be sent to cinema jail.
Eligibility
Films must be from 2022 or 2023 according to IMDb. Which means the year in brackets next to the title, not the release-date in your country.
Challenge runs from February 1, 2023 to February 28, 2023 in your local time zone.
Rules
- Each feature film (over 40 minutes) counts as one entry.
- 80 minutes of short films or miniseries/TV episodes counts as one entry.*
- Films must be watched one at a time and at single speed (not sped up).
- Rewatches are allowed
and are good for the soul
.
-
Please include year of release when listing your viewing
s. Listing your viewings otherwise your score will
NOT
be included in the leaderboard.
*Special note about miniseries/tv-series: Only episodes that have been shown for the first time in '22 or '23 are eligible, f.e. only Simpsons episodes that premiered in '21 or '22 are eligible, all others aren't.
I reserve the right to exclude participants who intentionally number their viewings incorrectly. If you play the game, you're expected to play properly.
Bonus Challenge #1: Black History Month
In the past, I've ran an unofficial challenge for Black History Month - instead, we'll do it as a bonus challenge here. This bonus challenge is for anyone wanting to celebrate Black History Month by celebrating Black cinema. I'm not really going to define what "Black cinema" is; rather, the definition is relatively open and can be interpreted by the player. The only ask is that you respect the spirit of the challenge and make sure it really is "Black cinema."
- If you want a movie to count for this bonus challenge mark it with the tag
#BLM
Leaderboard Bonus Challenge 1

| | | |
| --- | --- | --- |
| Rank | Participant | Count |
| 1 | magnusbernhardsen | 5 |
| 2 | flavo5000 | 3 |
| 3 | sol | 2 |
| 3 | dirty_score | 2 |
| 5 | maxwelldeux | 1 |
| 5 | Good_Will_Harding | 1 |
Bonus Challenge #2: Double-dip the Oscar Nominees
This bonus challenge is to encourage a little double-dipping and watch new releases that have been nominated for an Oscar. You know. For reasons.
- If you want a movie to count for this bonus challenge mark it with the tag
#Oscar
- Note: For this bonus challenge only, shorts and features will be counted the same. Each film, no matter the length, can count here for a point.
P.S. A movie can count for both Bonus Challenges!
Leaderboard Bonus Challenge 2

| | | |
| --- | --- | --- |
| Rank | Participant | Count |
| 1 | gunnar | 42 |
| 2 | jeroeno | 31 |
| 3 | flavo5000 | 27 |
| 4 | DudeLanez | 20 |
| 5 | monclive | 11 |
| 6 | sol | 10 |
| 7 | Good_Will_Harding | 9 |
| 8 | Rufus-T | 8 |
| 8 | Tngy | 8 |
| 10 | whizwilly | 7 |
| 11 | Silga | 6 |
| 11 | Lonewolf2003 | 6 |
| 13 | magnusbernhardsen | 4 |
| 14 | ororama | 3 |
| 14 | maxwelldeux | 3 |
| 14 | blocho | 3 |
| 14 | peeptoad | 3 |
| 14 | dirty_score | 3 |
Leaderboard
| | | |
| --- | --- | --- |
| Rank | Participant | Count |
| 1 | gunnar | 117 |
| 2 | jeroeno | 89 |
| 3 | klaus78 | 68 |
| 4 | St. Gloede | 50 |
| 5 | flavo5000 | 48 |
| 6 | beavis | 39 |
| 7 | magnusbernhardsen | 38 |
| 7 | blocho | 38 |
| 9 | sol | 35 |
| 10 | 72aicm | 27 |
| 11 | maxwelldeux | 21 |
| 12 | DudeLanez | 20 |
| 12 | Silga | 20 |
| 14 | Tngy | 19 |
| 15 | Good_Will_Harding | 16 |
| 16 | vortexsurfer | 15 |
| 17 | dirty_score | 14 |
| 18 | nimimerkillinen | 13 |
| 19 | jdidaco | 12 |
| 20 | monclive | 11 |
| 20 | AB537 | 11 |
| 22 | whizwilly | 9 |
| 22 | Lonewolf2003 | 9 |
| 24 | Rufus-T | 8 |
| 24 | VincentPrice | 8 |
| 26 | peeptoad | 6 |
| 27 | tommy_leazaq | 4 |
| 28 | Cinepolis | 3 |
| 28 | ororama | 3 |
| 30 | Ritesh | 2 |
| 31 | shugs | 1 |