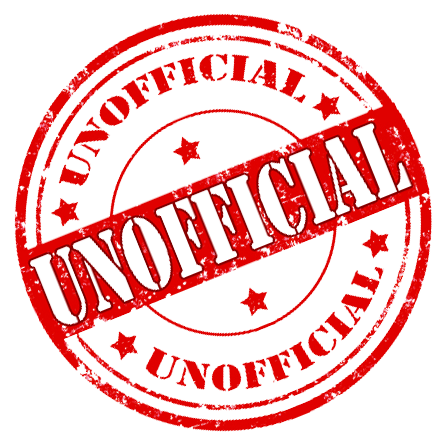 Unofficial Challenge
For many of us, iCM has been a godsend. Rather than spending hours trying to work out what to watch from thousands of movies out there, the site provides 208 (and counting) reputable lists to work on. What's more, the site ranks you against other users depending on the number of films you have checked from those 208 Official Lists, and gives you imaginary metal for completing 50, 75, 90 and 100% of any given list. The downside of this is that, since joining iCM, some users (I am certainly guilty of this) have refined their viewing habits to preference to films on 1+ Official lists over those on no lists at all. And on a personal note, this has lad to me amassing a very large number of unwatched films (and recommendations) that I have procrastinated due to their Unofficial status.
This is the Challenge where we aim to reverse that trend and try to encourage everyone to think outside the square and check out all the promising films out there that are currently on no Official lists. As the massive number of films mentioned in last year's Unofficial poll proved, there is a wealth of movies out there that many of us believe to be great, Official Status or not. And this is the month to explore those titles. Who knows what you might find? Maybe something worth nominating for this year's 500<400 poll, next year's DTC exercise or the next World Cup? So go out, explore and report to back to us with what is out there, worthwhile and which we may have missed due to unofficial status.

(stolen from sol, just like every other host)
Goal
Watch as many Unofficial movies as you can, or want, from December 1st, 2021 to December 31st, 2021 your time.
What is an Unofficial Film?
Must be on zero Official Lists on
iCheckMovies
at the time that you watch it. If a film turns Official during the month you can only include it if you saw it before it became Official.
Rules
- Feature length (40mins+) narrative, documentary and experimental films are eligible for this Challenge
- Telepics and miniseries (if watched in their entirety) are eligible for this Challenge, but are only worth 1 point
- TV episodes, individual miniseries episodes music videos and short films are not eligible for this Challenge
- Do not edit your posts to add new watches, just create a new one
Bonus Challenge: iCMF-FF5
I was part of the programming team of this years iCMForum Film Festival and I would like to highlight them here. Unfortunately only 40 of the 50 films in this years Festival so I can't highlight the whole festival but at least those 40 can be. The winner of this bonus challenge will be the one to watch the most of the 40 films. All eligible films can be found here
https://www.icheckmovies.com/lists/icmf ... plists&asc
(first 40 only) and are in the spoiler below as well. While I know all the movies please mark your entries with
#iCMF-FF5
to save me from missing it.
Spoiler

Main Slate
3. The Hidden City (La ciudad oculta) (2018)
5. Jinpa (Zhuang si le yi zhi yang) (2018)
7. Echo (Bergmál) (2019)
8. Aniara (2018)
9. Promare (Promare: Puromea) (2019)
10. S He (2018)

Euro
1. Truth and Justice (Tode ja oigus) (2019)
2. Pity (Oiktos) (2018)
3. Crystal Swan (Khrustal) (2018)
4. In the Aisles (In den Gängen) (2018)

Latin
3. Valley of Souls (Tantas Almas) (2019)

Asia
1. Sun Children (Khorshid) (2020)
3. Tale of Three Sisters (Kız Kardeşler) (2019)

Africa
1. Air Conditioner (Ar Condicionado) (2020)
2. Supa Modo (2018)
3. Jesus Shows You the Way to the Highway (2019)
4. Youth (Dhalinyaro) (2018)

Indie
1. Fanny Lye Deliver'd (2019)
2. We the Animals (2018)
3. Ham on Rye (2019)

Animation
1. The Swallows of Kabul (Les hirondelles de Kaboul) (2019)
2. Marona's Fantastic Tale (L'extraordinaire voyage de Marona) (2019)
3. Away (2019)
4. A Whisker Away (Nakitai watashi wa neko wo kaburu) (2020)

Doc
1. Leap of Faith: William Friedkin on The Exorcist (2019)
2. This Changes Everything (2018)
3. Disclosure: Trans Live on Screen (2020)
4. Our Blood Is Wine (2018)

JBD
1. Rent-A-Pal (2020)
2. Anything for Jackson (2020)
3. 4x4 (2019)
4. Why Don't You Just Die? (Papa, Sdokhni) (2018)

Art
1. Obscuro Barroco (2018)
2. Dispassionate Love (Virndavani Vairagya) (2018)
3. Fire Will Come (O que arde) (2019)
4. Endless Night (Longa Noite) (2019)

LGBT
1. End of the century (Fin de siglo) (2019)
2. Sorry Angel (Plaire, aimer et courir vite) (2018)
3. This is not Berlin (Esto no es Berlin) (2019)
4. Dating Amber (2020)
*-
LEADERBOARD
| | | | |
| --- | --- | --- | --- |
| Rank | Participant | Count | Bonus |
| 1st | PUNQ | 248 | 0 |
| 2nd | jeroeno | 157 | 0 |
| 3rd | jdidaco | 128 | 8 |
| 4th | gunnar | 121 | 0 |
| 5th | flavo5000 | 106 | 13 |
| 6th | burneyfan | 96 | 0 |
| 7th | sol | 78 | 0 |
| 8th | zzzorf | 68 | 4 |
| 9th | Lonewolf2003 | 59 | 0 |
| 10th | Onderhond | 54 | 2 |
| 11th | RogerTheMovieManiac88 | 53 | 0 |
| 12th | kongs_speech | 52 | 0 |
| 13th | maxwelldeux | 46 | 3 |
| 14th | hurluberlu | 38 | 6 |
| 15th | OldAle1 | 34 | 0 |
| 16th | VincentPrice | 33 | 0 |
| 17th | AB537 | 32 | 0 |
| =18th | ororama | 29 | 0 |
| =18th | blocho | 29 | 5 |
| 20th | Torgo | 20 | 0 |
| 21st | pitchorneirda | 18 | 2 |
| 22nd | Minkin | 14 | 0 |
| 23rd | Lakigigar | 13 | 0 |
| 24th | DudeLanez | 11 | 0 |
| 25th | vortexsurfer | 8 | 0 |
| =26th | Lu-Chin | 7 | 0 |
| =26th | Hunziker | 7 | 0 |
| =26th | ckfilm88 | 7 | 0 |
| 29th | shugs | 5 | 1 |
| 30th | Arkantos | 4 | 0 |
| 31st | toromash | 1 | 0 |