Goal:
Watch as many movies as you can that fit into the Film Noir and Neo-Noir genres. If you are in doubt whether a movie counts or not, just ask.
Rules
- Each feature film (over 40 minutes) counts as one entry.
- 80 minutes of short films or miniseries/TV episodes counts as one entry.
- Films must be watched one at a time and at single speed (not sped up).
- Rewatches are allowed and are good for your soul.
- Challenge runs from November 1st - 30th 2021
Official lists:
IMDb Top 50 Film-Noir
TSPDT 100 Essential Noir Films
TSPDT 1000 Noir Films
Bonus Challenge: Femmes of Film Noir
Yeah I know I said I wouldn't run a bonus challenge but while I was looking for a picture for the top I came across the picture below and couldn't resist. The challenge is simple, there are 30 names below, to win this you have to watch a movie with each of the actresses in it. To record your watch mark which Femme you are recording it for e.g.
#Gloria Grahame
. Bonus points for anyone who watches them in order, more for someone who watches them in order on the specified day in the picture.
Note: Day 24: Joan Harrison is not an actress but instead a screenwriter/producer. For her entry any Noir she was involved as either of those roles will be acceptable.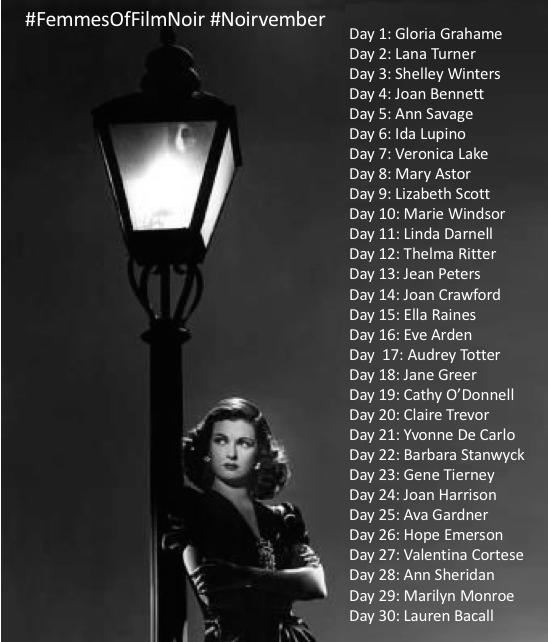 Femmes of Film Noir

Day 1: Gloria Grahame
Day 2: Lana Turner
Day 3: Shelley Winters
Day 4: Joan Bennett
Day 5: Ann Savage
Day 6: Ida Lupino
Day 7: Veronica Lake
Day 8: Mary Astor
Day 9: Lizabeth Scott
Day 10: Marie Windsor
Day 11: Linda Darnell
Day 12: Thelma Ritter
Day 13: Jean Peters
Day 14: Joan Crawford
Day 15: Ella Raines
Day 16: Eve Arden
Day 17: Audrey Totters
Day 18: Jane Greer
Day 19: Cathy O'Donnell
Day 20: Claire Trevor
Day 21: Yvonne De Carlo
Day 22: Barbara Stanwyck
Day 23: Gene Tierney
Day 24: Joan Harrison
Day 25: Ava Gardner
Day 26: Hope Emerson
Day 27: Valentina Cortese
Day 28: Ann Sheridan
Day 29: Marilyn Monroe
Day 30: Lauren Bacall
| | | | | |
| --- | --- | --- | --- | --- |
| Position | Participant | Score | Bonus Challenge | Bonus in order |
| 1st | flavo5000 | 121 | 30 | Yes |
| 2nd | PUNQ | 80 | 0 | --- |
| 3rd | OldAle1 | 58 | 3 | No |
| 4th | RogerTheMovieManiac88 | 52 | 0 | --- |
| 5th | frbrown | 49 | 6 | No |
| 6th | ororama | 48 | 6 | No |
| =7th | sol | 36 | 0 | --- |
| =7th | jdidaco | 46 | 0 | --- |
| =9th | Good_Will_Harding | 40 | 0 | --- |
| =9th | DudeLanez | 40 | 30 | Yes |
| 11th | marienbad | 34 | 30 | Yes |
| 12th | zzzorf | 31 | 30 | Yes |
| 13th | jeroeno | 21 | 0 | --- |
| 14th | jonas2k | 19 | 0 | --- |
| =15th | Knaldskalle | 18 | 5 | No |
| =15th | Melvelet | 18 | 0 | --- |
| 17th | Lonewolf2003 | 17 | 3 | No |
| 18th | AB537 | 16 | 1 | No |
| 19th | klaus78 | 14 | 0 | --- |
| 20th | WalterNeff | 12 | 0 | --- |
| 21st | hurluberlu | 10 | 0 | --- |
| =22nd | Lammetje | 8 | 3 | No |
| =22nd | VincentPrice | 8 | 6 | Yes |
| =22nd | maxwelldeux | 8 | 6 | Yes |
| 25th | 1SO | 6 | 0 | --- |
| 26th | pitchorneirda | 5 | 0 | --- |
| =27th | Hunziker | 4 | 0 | --- |
| =27th | toromash | 4 | 0 | --- |
| =29th | kongs_speech | 3 | 0 | --- |
| =29th | LaTierri | 3 | 1 | No |
| =29th | blocho | 3 | 1 | No |
| 32nd | Arkantos | 2 | 0 | --- |
| =33rd | Torgo | 1 | 0 | --- |
| =33rd | 3eyes | 1 | 0 | --- |