114a.
Mobile Suit Gundam: Twilight AXIS E1-6 (2017)
114b.
Pikachu no Wanpaku Island a.k.a. Pikachu's Island Vacation (2007)
114c.
Lupin III: Secret Files OVA (1969-1978)
Twilight Axis is pretty skippable unless you've read the original text and want a supplementary visual experience. With the episodes only being a few minutes long, there's little time for character building, so it mainly just dramatizes the mecha fights with little context. Pikachu's Island Vacation is beyond annoying. Easily one of the most obnoxious Pokemon things I've seen. Lupin III Secret Files is basically a compilation OVA of the original pilot for the Lupin III TV series as well as a remastered, remixed version of the pilot along with some trailers for other Lupin films dropped in the middle. I would only recommend it for hardcore Lupin fans. Much of it is more character bios with a fairly generic short caper at the end.
115.
Gekijô-ban poketto monsutâ: Adobansu jenerêshon pokemon renjâ to umi no ôji manafi a.k.a. Pokémon Ranger and the Temple of the Sea (2006)
Another day, another mediocre Pokemon movie. The climax felt way too protracted with the temple flooding and everyone trying to get ahold of the crystals.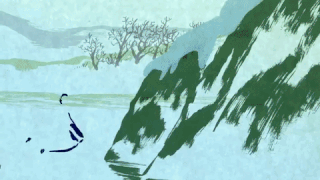 116.
La jeune fille sans mains a.k.a. The Girl Without Hands (2016)
This was a very visually distinctive take on a Brothers Grimm fairytale about a girl tricked into having her hands chopped off, becoming a queen and living in exile with her trial. The story is one of Grimms' more elaborate ones and works quite well in the context of this almost abstract animation style that blends what appear to be hand-drawn sketches with mid-century modernist backdrops into a visually arresting experience.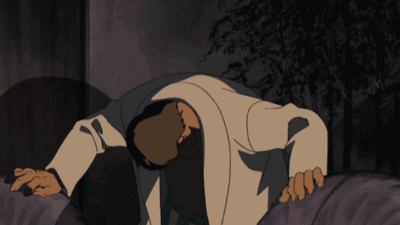 117-118.
Demon Prince Enma E1-4 (2006)
Pretty solid horror mini-series from the mind of Go Nagai (Devilman, Cutey Honey) about a demon detective sent to recapture demons who have escaped Hell to torment the living. It's bleak and violent in places but also can get silly at times as well. Not a horror masterpiece but still pretty well-made.
119.
WolfWalkers (2020)
Cartoon Saloon hasn't disappointed me yet and WolfWalkers is no different. With a narrative that reminds me a little of Pixar's Brave but with a more nuanced and layered approach, it sports beautiful animation filled with swirling mystical colors that provide a feast for the eyes. I will say I think the LGBT angle is probably an example of reading more into something that what's intended (and the director of the film has said as much as well) but regardless a film that stands the test of time is one that can be interpreted in a variety of ways beyond what the filmmakers originally envisioned, and if people are inspired by this one, more power to them.
Living a Frame At A Time

1a. Mowgli's Brothers (1975)
1b. The White Seal (1975)
1c. Yankee Doodle Cricket (1975)
1d. A Very Merry Cricket (1973) #BONUS Creator Profile: Chuck Jones
2. Jewel BEM Hunter Lime (1996)
3. Batman Unlimited: Animal Instincts (2015)
4. Taishizen no makemono Bagi a.k.a. Bagi, the Monster of Mighty Nature (1984) #BONUS Creator Profile: Osamu Tezuka
5. Lupin III: The First (2019)
6. Megazone 23 (1985)
7. Megazone 23 II (1986)
8. Megazone 23 III (1989)
9-10. Nu, pogodi! a.k.a. Just Wait! E1-21+Lost Episodes (1969)
11. My Dog Tulip (2009)
12. Beyond the Mind's Eye (1992)
13. The Incredible Gokai Video Junk Boy (1987)
14-16. Watashi ga motenai no wa dô kangaetemo omaera ga warui! a.k.a. WataMote: No Matter How I Look at It, It's You Guys' Fault I'm Not Popular! E1-12 (2013)
17. Deathstroke Knights & Dragons: The Movie (2020)
18. African Tales (2009)#BONUS Around the World: Africa
19. Bru & Boegie: The Movie (2019) #BONUS Around the World: Africa
20. Bilal: A New Breed of Hero (2015)
21. Bulsajo roboteu Pinikseu-King a.k.a. Defenders from Space (1984)
22. Justin and the Knights of Valour (2013)
23. Foodfight! (2011) #BONUS Excuse Me While I Puke
24a. When They Cry OVA: Outbreak (2013)
24b. WataMote OVA (2014)
24c. My Teen Romantic Comedy SNAFU OVA (2013)
25. Disaster! (2005) #BONUS Style Profile: Stop Motion
26. Hair High (2004)
27. Lego DC Comics Super Heroes: The Flash (2018)
28. Kingsglaive: Final Fantasy XV (2016)
29. Sextoons (1975)
30. The Funky World of Adult Cartoons (1970s?)
31. Non Non Biyori: The Movie - Vacation (2018)
32-33a. Mid-Century Modern Animation Vol. 2 (1946-1959)
33b. White Radish Magic & Monsters Shorts Collection (The Item, Apprentice, Cutethulhu) (1996-2003)
33c-37. Carole & Tuesday E8-24 (2019-2020) #BONUS Style Profile: Rotoscope
38-39. Halas & Batchelor Short Films #BONUS Creator Profile: Hala & Batchelor
40. Dôwa meita senshi Windaria a.k.a. Once Upon A Time (1986)
41. Pengin haiwei a.k.a. Penguin Highway (2018)
42. The Congress (2013)
43a. Windy Day (1968)
43b. Tifusari a.k.a. Typhoid Sufferers (1963)
43c. T's World: The Over Identification of Terry Thompson (2013)
43d. An Optical Poem (1943)
43e. Films to Break Projectors (2017)
43f. Cream (2016)
43g. Runaway (1969)
43h. Moon Breath Beat (1980)
44. Hospital Brut (1999) #BONUS: Distance. Effervescent. Time Immemorial. Holding onto Nothing.
45. Rupan sansei: Moeyo zantetsuken a.k.a. Lupin III: Dragon of Doom (1994)
46. Ra: Path of the Sun God (1990)
47. Shiriusu no densetsu a.k.a. Sea Prince and the Fire Child (1981)
48. Gwen, le livre de sable a.k.a. Gwen, the Book of Sand (1985)
49. Of Stars and Men (1962) #BONUS: The Hubleys
50. Le grand méchant renard et autres contes... a.k.a. The Big Bad Fox and Other Tales... (2017) #Bonus Around the World: Europe (France)
51. Monster Family (2017) #Bonus Around the World: Europe (Germany)
52a. Hello Kitty and Friends: Alice in Wonderland (1991)
52b. Mega Man X: The Day of Sigma (2005)
52c. Fujiko Fujio A no Mumako (1990)
53-55. Punch Line E1-12 (2015)
56. Moeru butsuzô ningen a.k.a. The Burning Buddha Man (2013)
57. Gotham Girls S1-S3 (2000-2002) #BONUS Flash Animation
58. Jiang Ziya (2020)
59. Dragonlance: Dragons of Autumn Twilight (2008)
60. Winnie the Pooh: Seasons of Giving (1999)
61. Âya to majo a.k.a. Earwig and the Witch (2020)
62. Scooby-Doo! Camp Scare (2010)
63. Pokemon za mûbî XY: Ringu no choumajin Fûpa a.k.a. Pokémon the Movie: Hoopa and the Clash of Ages (2015)
64. Meitantei Conan: 14 banme no target a.k.a. Detective Conan: The Fourteenth Target (1998)
65. Tweety's High-Flying Adventure (2000)
66. Star Ballz (2001)
67. Gekijô ban Bleach: The DiamondDust Rebellion - Mô hitotsu no hyôrinmaru a.k.a. Bleach the Movie 2: The Diamond Dust Rebellion (2007)
68a. Shadow of the Elves E1-3 (2004)
68b. Muratti greift ein a.k.a. Muratti Marches On (1934)
68c. Muratti privat (1935)
68d. Alfred (1997)
69. Care Bears: Big Wish Movie (2005)
70. Tito e os Pássaros a.k.a. Tito & the Birds (2018) #BONUS South America (Brazil)
71. Anina (2013) #BONUS South America (Uruguay)
72a. Resfest Shorts [Alfred (1997), Tongues and Taxis (2000), Pasta for War (2000), Snack and Drink (2000), 11:11 (2000), Luz (2000), Syokyoan (2000), Cirkus (2000), Golden Shoes (2000), Latin Alive (2000) ]
72b. Darwyn Cooke's Batman Beyond (2014)
72c. Hellboy: The Troll Witch (2018)
72d. The Other Gods (2006)
72e. American March (1941)
72f. Radio Dynamics (1942)
72g. Mimi and the Mountain Dragon (2019)
73. Kaijû no kodomo a.k.a. Children of the Sea (2019)
74. Teen Titans Go! Vs. Teen Titans (2019)
75-77. Central Park Season 1 (2020)
78. Kronk's New Groove (2005)
79. Disney shorts [ Aquamania (1961), Donald's Crime (1945), Pluto's Blue Note (1947), Lend a Paw (1941), Squatter's Rights (1946), Rugged Bear (1953), Tea for Two Hundred (1948), Good Scouts (1938), No Hunting (1955), Flowers and Trees (1932), Truant Officer Donald (1941) ]
80. Gall Force: Shin seiki hen a.k.a. New Era (1991)
81a. Mou Hitotsu no Mirai wo. E1-3 (2013)
81b. Kanojo to Kanojo no Neko (2002) + Kanojo to Kanojo no Neko: Everything Flows (2016)
81c. Nora to Oujo to Noraneko Heart E1-11 (2017)
82. Afro Samurai (2007)
83. Pooh's Heffalump Movie (2005)
84-86. My Teen Romantic Comedy SNAFU TOO! E1-13 (2015)
87. Bâsudê wandârando a.k.a. The Wonderland (2019)
88. The Batman Superman Movie: World's Finest (1997)
89. Kôkaku Kidôtai Shin Gekijôban a.k.a. Ghost in the Shell: The New Movie (2015)
90. Fragtime (2019) #BONUS All the Colors of the Rainbow
91. The Pebble and the Penguin (1995) #BONUS Around the World: Antarctica
92. Saibi a.k.a. The Fake (2013)
93. The Batman vs. Dracula (2005)
94a. The Flying Fish (2019)
94b. Martin pleure (2017)
94c. The Girl Who Swallowed Bees (2007)
94d. Seelische Konstruktionen (1927)
94e. Night in the Wild Garden (2015)
94f. The Retnepac2/Space Yokai War (??)
95. Balto II: Wolf Quest (2002)
96. Shin Getter Robo vs Neo Getter Robo E1-4 (2000)
97. Pokémon the Movie: Destiny Deoxys (2004)
98. Pokémon: Jirachi - Wish Maker (2003)
99. Tom and Jerry: The Fast and the Furry (2005)
100. Over the Moon (2020)
101. Spaceship Agga Ruter (1998)
102. Xi you ji zhi da sheng gui lai a.k.a. Monkey King: Hero Is Back (2015)
103.Bambi II (2006)
104-106. Usagi Drop (2011) E-11 + Specials
107. Cartoon Crazy 2 DVD [ Doggone Tired (1949), To Duck... or Not to Duck (1943), Inki and the Minah Bird (1943), It's a Greek Life (1936), The Wacky Wabbit (1942), The Goose That Laid the Golden Egg (1936), A Day at the Zoo (1939), The Wabbit Who Came to Supper (1942), The Early Worm Gets the Bird (1940), King for a Day (1940), Toonerville Trolley (1936), The Fifth-Column Mouse (1943) ]
108. Shaun the Sheep Season 5 + Shaun the Sheep Championsheeps E1-10 (2016)
109. Gyakusatsu kikan a.k.a. Genocidal Organ (2017) #BONUS Geyser of Blood
110. Marco Polo Junior Versus the Red Dragon (1972) #BONUS Around the World: Australia
111. RPG Metanoia (2010) #BONUS Around the World: Asia (Phillipines)
112. Beauty and Warrior (2002) #BONUS Around the World: Asia (Indonesia)
113. Tottoi a.k.a. Secret of the Seal (1992)
114a. Mobile Suit Gundam: Twilight AXIS E1-6 (2017)
114b. Pikachu no Wanpaku Island a.k.a. Pikachu's Island Vacation (2007)
114c. Lupin III: Secret Files OVA (1969-1978)
115. Gekijô-ban poketto monsutâ: Adobansu jenerêshon pokemon renjâ to umi no ôji manafi a.k.a. Pokémon Ranger and the Temple of the Sea (2006)
116. La jeune fille sans mains a.k.a. The Girl Without Hands (2016)
117-118. Demon Prince Enma E1-4 (2006)
119. WolfWalkers (2020)