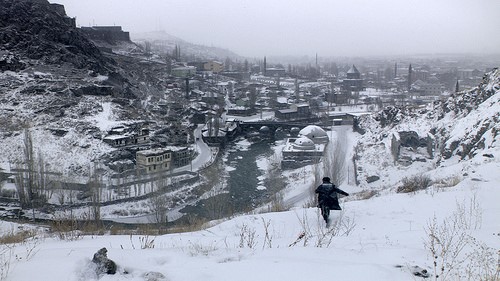 188.
Kosmos (2009)
A very odd drifter with a penchant for speaking in vague parables and seems to have miraculous healing abilities sets a small town on its guard. Beautiful cinematography in places but the film seemed too oblique to convey what it was trying to at times.
189a.
L'imitation du cinéma (1960)
189b.
Rabbit's Moon (1950)
189c.
Inauguration of the Pleasure Dome (1954)
These would've been right at home in the experimental challenge next month... Eh... Neither the first French short or the two Kenneth Anger shorts really did much for me TBH.
190.
Cyborg 2087 (1966)
Despite the sci-fi setup, the climax of the movie feels more like an old west showdown... Fairly clunky movie but had its moments.
191.
The Secret Life of Walter Mitty (2013)
A little heavy on the sentimentality but still pretty funny in places and fairly enjoyable to watch with a good if super obvious message. I did think that the transition from daydreaming and fantasy to actual crazy adventures could've been a little smoother. It made me wonder if I was being tricked with another fantasy sequence when he decided to go Greenland and jump on a moving helicopter.
192.
Midnight Special (2016)
This one was a solid sci-fi chase flick from Jeff Nichols and while the more overt action/adventure elements felt different than his usual fare, it also had the nuanced character work he's more known for. And of course, Michael Shannon was great as usual.
193.
Season of the Witch (2011)
So this one isn't amazing but frankly it isn't terrible either. I think it gets reviewed bombed for having Nicholas Cage in it, but if it were some rando like Gerard Butler or Sam Worthington, it'd probably get a lot of 'eh, it was ok' type reviews.
194.
Chrysalis (2007)
This French film is a kind of hybrid of glossy sci-fi and crime procedural. It has some decent ideas but the execution felt a little bland.
195.
The Muppets' Wizard of Oz (2005)
I had put this off because the promo material made it feel like a cheap cash-in after Jim Henson's death. But to be honest, I actually enjoyed it pretty decently. It had legitimately funny jokes and the typical sort of anarchic muppet humor. Really the most cringy part was the random cameo from Quentin Tarantino in the middle where he's pitching Kermit on various graphic violent ways to kill the wicked witch. Overall though, if you like the Muppets, you'll probably find something entertaining here.
196.
Capricorn One (1977)

This conspiracy thriller posits an aborted rocket launch that leads to a faked moon landing, mirroring the rumors of the real moon landing by Apollo 11. I can go kind of hot or cold on these types of '70s paranoia films, but I thought this one was surprisingly engaging for most of its runtime with a good pace and a solid cast.
Dashing Through The Cosmos On An Exploding Unicorn

1. Wonder Woman 1984 (2020)
2. The Lego Star Wars Holiday Special (2020)
3. Robo Vampire (1988)
4. Temptation Island (1980)
5. Les trois couronnes du matelot a.k.a. Three Crowns of the Sailor (1983)
6. No Escape (1994)
7. Soul (2020)
8a. Shirley Temple's Storybook: The Princess and the Goblins (1961)
8b. Ballet of the Mermaids (1938)
8c. Ropáci a.k.a. Oil Gobblers (1988)
9. Thunder Rock (1942)
10. Turbo: A Power Rangers Movie (1997)
11. Aniara (2018)
12. Heartbeeps (1981)
13. Blue My Mind (2017)
14. Eunhaengnamoo chimdae a.k.a. Gingko Bed (1996)
15. Adventures of Captain Marvel (1941)
16. Tales from the Neverending Story: The Beginning (2001)
17. The Reluctant Astronaut (1967)
18. Earth to Echo (2014)
19. Bijo to ekitai ningen a.k.a. The H-Man (1958)
20. The Bamboo Saucer (1968)
21. Percy Jackson: Sea of Monsters (2013)
22. The Curious Female (1970)
23a. Black Mirror: USS Callister (2017)
23b. The Wonderful Wizard of Oz (1910)
24. His Majesty, the Scarecrow of Oz (1914)
25. The Magic Cloak of Oz (1914)
26. Source Code (2011)
27. The 3 Worlds of Gulliver (1960)
28. FairyTale: A True Story (1997)
29. Journey to the Center of the Earth (1988)
30. Golok setan a.k.a. The Devil's Sword (1984)
31. The Patchwork Girl of Oz (1914)
32. The Wizard of Oz (1925)
33. Singularity (2017)
34. The Mind's Eye (2015)
35. Village of the Giants (1965)
36. Na srebrnym globie a.k.a. On the Silver Globe (1988)
37. Tammy and the T-Rex (1994)
38. Cinderfella (1960)
39. The Atomic Kid (1954)
40. Kamisama no pazuru a.k.a. God's Puzzle (2008)
41. Minoes (2001)
42. Escape from the Planet of the Apes (1971)
43. Conquest of the Planet of the Apes (1972)
44. Battle for the Planet of the Apes (1973)
45. Beastly (2011)
46. Djävulens öga a.k.a. The Devil's Eye (1960)
47. Crack in the World (1965)
48a. Black Mirror: Crocodile (2017)
48b. The Legend of Loch Lomond (2001)
49. Xi you ji: Da nao tian gong a.k.a. The Monkey King (2014)
50. Warlords of Atlantis a.k.a. Warlords of the Deep (1978)
51. The Boys from Brazil (1978)
52. Operetta tanuki goten a.k.a. Princess Raccoon (2005)
53. Monster Trucks (2016)
54. Merlin (1998)
55-57. The Mandalorian Season 2 E1-8 (2020)
58. Uh Oh! (2004)
59. Thunderbirds Are GO (1966)
60. Thunderbird 6 (1968)
61. Liu lang di qiu a.k.a. The Wandering Earth (2019)
62. Tenet (2020)
63. Jack the Giant Slayer (2013)
64. Disturbing Behavior (1998)
65. To the Ends of Time (1996)
66. Baio hantâ a.k.a. Bio Hunter (1995)
67. Zhong Kui fu mo: Xue yao mo ling a.k.a. Snow Girl and the Dark Crystal (2015)
68. Morons from Outer Space (1985)
69. Catwoman (2004)
70. The World, the Flesh and the Devil (1959)
71. Gamera tai uchu kaijû Bairasu a.k.a. Gamera vs Viras (1968)
72. Man from Atlantis (1977)
73. Der Dibuk (1937)
74. Christopher Robin (2018)
75. Voyage to the Bottom of the Sea (1961)
76. Fei Ying a.k.a. Silver Hawk (2004)
77. Wholly Moses! (1980)
78. Spawn of the Slithis (1978)
79. Mr. Popper's Penguins (2011)
80. Mystery Science Theater 3000: The Return: At the Earth's Core (2017)
81. The Peanut Butter Solution (1985)
82. The Andromeda Strain (2008)
83. Puen yai jon salad a.k.a. Legend of the Tsunami Warrior (2008)
84. Godzilla vs. Biollante (1989)
85. The Minion (1998)
86. Z.P.G. a.k.a. Zero Population Growth (1972)
87. S.O.S. Tidal Wave (1939)
88. Duelle (une quarantaine) (1976)
89. Zombies of the Stratosphere (1952)
90. Maze Runner: The Scorch Trials (2015)
91a. Black Mirror: Hang the DJ (2017)
91b. Black Mirror: Metalhead (2017)
92. Perdues dans New York a.k.a. Lost in New York (1989)
93. Things to Come (1976)
94. Firefox (1982)
95. In-lyu-myeol-mang-bo-go-seo a.k.a. Doomsday Book (2012)
96. El pantano de los cuervos a.k.a. Swamp of the Ravens (1974)
97. Akai hashi no shita no nurui mizu a.k.a. Warm Water Under a Red Bridge (2001)
98. Teen Witch (1989)
99. Gamer (2009)
100. Real Men (1987)
101. The Neptune Factor (1973)
102. Pet Shop (1994)
103. Dumbo (2019)
104. Okja (2017)
105. The Hunters (2013)
106. tom thumb (1958)
107. Hornet (2018)
108. My Science Project (1985)
109. The Kid Who Would Be King (2018)
110. Sarmasik a.k.a. Ivy (2015)
111. Pinocchio (1911)
112. Made in Abyss: Fukaki Tamashî no Reimei a.k.a. Made in Abyss: Dawn of the Deep Soul (2020)
113. First Men in the Moon (1964)
114. Late for Dinner (1991)
115. Jim Henson's Turkey Hollow (2015)
116a. Black Mirror: Black Museum (2017)
116b. Dirty Work (1933)
117. Minna! Esper Dayo!: Bangai hen Esper Miyako e iku (2015)
118. Poesía sin fin a.k.a. Endless Poetry (2016)
119. The Colour of Magic (2008)
120. Beyond Atlantis (1973)
121. The Shadow Effect (2017)
122. The Incredible Shrinking Woman (1981)
123. Vuelven los campeones justicieros a.k.a. The Champions Five Supermen (1972)
124. Practical Magic (1998)
125. In the Name of the King: A Dungeon Siege Tale (2007)
126. Mosura a.k.a. Mothra (1961)
127. Galaxina (1980)
128. Bai she chuan shuo a.k.a. The Sorcerer and the White Snake (2011)
129. Dr. Dolittle 2 (2001)
130. Jit (1990)
131. Antiviral (2012)
132. Too Much Loving a.k.a. Robot Love Slaves (1971)
133. 13 Going on 30 (2004)
134. Geu seome gago shibda a.k.a. To the Starry Island (1993)
135. Wunder der Schöpfung a.k.a. Our Heavenly Bodies (1920)
136. In Search of the Castaways (1962)
137. Biggles: Adventures in Time (1986)
138. Mr. Peabody and the Mermaid (1948)
139. Aaahh Belinda (1989)
140. 2001: A Space Travesty (2000)
141. The Chronicles of Riddick (2004)
142. Jiu ceng yao ta a.k.a. Chronicles of the Ghostly Tribe (2015)
143. Nassereddin Shah, Actor-e Cinema a.k.a. Once Upon a Time, Cinema (1992)
144. Special (2006)
145. Moskva-Kassiopeya a.k.a. Moscow - Cassiopea (1974)
146-154a. The Prisoner E1-17 (1967)
154b. Mockingbird Lane (2012)
155. Stryker (1983)
156. Mary Poppins Returns (2018)
157. OXV: The Manual a.k.a. Frequencies (2013)
158. Cesta do praveku a.k.a. Journey to the Beginning of Time (1955)
159. Sinbad of the Seven Seas (1989)
160. The Computer Wore Tennis Shoes (1969)
161. La puerta y la mujer del carnicero a.k.a. The Door and the Woman of the Butcher (1969)
162. Aliens Ate My Homework (2018)
163. Red Riding Hood (1989)
164. Francis a.k.a. Francis the Talking Mule (1950)
165. Francis Goes to the Races (1951)
166. Gamera 2: Region shurai a.k.a. Assault of the Legion (1996)
167. Mystery Science Theater 3000: The Return: The Christmas That Almost Wasn't (2017)
168. Sungnyangpali sonyeoui jaerim a.k.a. Resurrection of the Little Match Girl (2002)
169. Luna (2014)
170. Candy (1968)
171. Street Fighter: The Legend of Chun-Li (2009)
172. Solarbabies (1986)
173. Escape to Witch Mountain (1975)
174. A Mulher de Todos a.k.a. The Woman of Everyone (1969)
175. The Sex Trip (2016)
176. Kei moon duen gap a.k.a. The Miracle Fighters (1982)
177. Return from Witch Mountain (1978)
178. The Space Between Us (2017)
179. Fateful Findings (2014)
180. O-bi, O-ba - Koniec cywilizacji a.k.a. O-Bi, O-Ba - The End of Civilization (1985)
181. Bãhubali 2: The Conclusion (2017)
182. Jaka Sembung a.k.a. The Warrior (1981)
183. Si Buta lawa Jaka Sembung a.k.a. The Warrior and The Blind Swordsman (1983)
184. Ladyhawke (1985)
185. Monday (2000)
186. Mystery Science Theater 3000: The Slime People (1990)
187. Space Raiders (1983)
188. Kosmos (2009)
189a. L'imitation du cinéma (1960)
189b. Rabbit's Moon (1950)
189c. Inauguration of the Pleasure Dome (1954)
190. Cyborg 2087 (1966)
191. The Secret Life of Walter Mitty (2013)
192. Midnight Special (2016)
193. Season of the Witch (2011)
194. Chrysalis (2007)
195. The Muppets' Wizard of Oz (2005)
196. Capricorn One (1977)