Film of the Week #323: Jane B. par Agnès V. AKA Jane B. for Agnes V. (1988)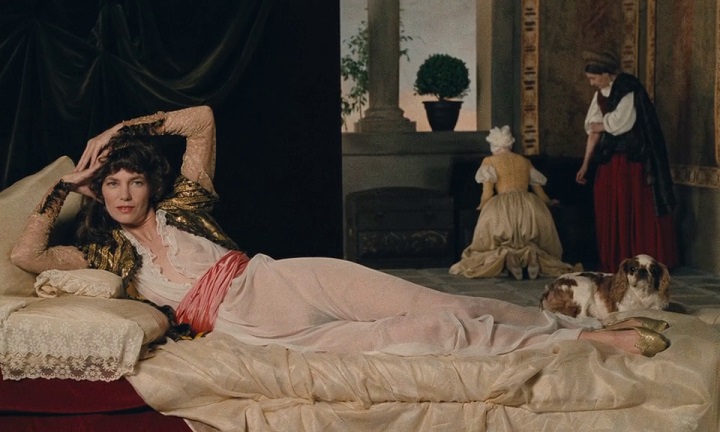 Summary:
"I'll look at you, but not at the camera. It could be a trap," whispers Jane Birkin shyly into Agnès Varda's ear at the start of JANE B. PAR AGNES V. The director of CLEO FROM 5 TO 7 and VAGABOND once again paints a portrait of a woman, this time in a marvelously Expressionistic way. "It's like an imaginary bio-pic," says Varda. Jane, of course, is the famed singer ("Je t'aime ... Moi non plus"), actress (BLOW UP), fashion icon (the Hermes Birkin bag) and longtime muse to Serge Gainsbourg. As Varda implies, JANE B. PAR AGNÈS V. abandons the traditional bio-pic format, favoring instead a freewheeling mix of gorgeous and unexpected fantasy sequences. In each, Jane inhabits a new character, playing a cat & mouse game with Varda as they explore the role of the Muse and the Artist, all the while showcasing the multifaceted nature of Birkin's talent. "I'd like to be filmed as if I were transparent, anonymous, like everyone else," says Birkin. But her wish to be a "famous nobody" is impossible to achieve; Birkin is simply too magnificent, too mesmerizing. Here, Varda's signature mix of aesthetic innovation and generosity of emotion results in a surreal and captivating essay on Art, Fame, Love, Children and Staircases.
#469 on 500<400, with 130 checks.
Nominated by 72aicm, Cocoa, and joachimt.
On
IMDb
On
iCM
From the 500<400 results

#469(NEW) Jane B. par Agnès V. (1988)
[Jane B. for Agnes V.] Directed by:

Agnès Varda

(267.54 Pts, 8 Votes) , Top 1–10–50: 0–1–3 History:

469

←

822

←

7775

←

NA

←

NA

←

NA

←NA

---

ICheckMovies: 106 Checks , 13 Favourites , 1 Official list

List of Voters:

St. Gloede (9)
sebby (15)
Asberg (NA)
paul281f (NA)
hurluberlu (NA)
Smoover (NA)
72allinncallme (NA)
xianjiro (503)
This movie fits the current Directed by Women Challenge.
Here
is a schedule of all the FotWs.