Posts: 3714
Joined: Jul 09, 2011
Contact:
---
Donator
Posts: 4501
Joined: Feb 21, 2014
Contact:
'Hyperballad' is definitely one of my favourite songs; like a great movie, this song has character and narrative complexity, and evocative lyrics creating mental imagery that varies with every listen.
The music video synthesises many good ideas - multitude of selves, an interpenetrating digital world, array of jostling light frequencies, turbulent phosphenes in a noosphere, electricity pylons. Those images correspond well to the hypnotic electronic beats of the music. The girl in the music video is either the one that has already thrown herself off the cliff (dead, with eyes open or closed), or someone dreaming ("It's real early morning / No one is awake / I'm back at my cliff"); I especially like how there's a superimposed digital self that sings and yet another one that runs on the outskirts of the electric city seen in the background. The absence of a distinct "house" or "significant other" alluded to in the lyrics I think works in favour of the music video - including those would be a little too blatant, without them her struggle is rendered more extensive, abstract.
I'm not particularly a fan of Gondry's artificial "cardboard look". 'Hyperballad' has plenty of it in the backgrounds. I'll still give it the higher of the two ratings I had in mind, because I do love the song (and electricity pylons).
added it to iCM btw:
https://www.icheckmovies.com/movies/bjork+hyperballad/
Last edited by
Carmel1379
on May 20th, 2017, 6:49 pm, edited 1 time in total.
---
Posts: 3714
Joined: Jul 09, 2011
Contact:
What I love about it is that as a basis it seemingly uses an uninterrupted shot of Björk's face as she is just lying still. But then there is this digital layer (or rather layers) that give the impression of a hologram. It's spectacular and even trippy although it ostensibly it's just a shot of a sleeping(?) woman. I'm not too hot on Gondry's paper-mâché special effects either usually but think it works great in this context. The woman is surrounded by nature dreaming of digital sheep (metaphorically speaking) and digital cityscapes, and with the nature being so artificial-looking it bridges the gap between nature and the city, between the organic and the artificial, between the material and the digital, instead of giving preference to one over the other, in other words I think it gives more credence to the digital projection/dream/fantasy (whatever it is).

I find the video pretty cyberpunk, actual (so-called) nature would probably feel out of place there or lessen its effect in this regard, and Björk generally just seems pretty big on nature so I think it makes sense for it to feature in some way, and certainly given that in these particular lyrics she sings about mountains and cliffs and so on, something would seem missing if Björk's organic self were to be placed in a cold room like the one in the "All is Full of Love" video, for example.
---
Donator
Posts: 4501
Joined: Feb 21, 2014
Contact:
It looks otherworldly alright, and the paper-mâché (thanks for reminding me of the correct term) effects do contribute in that respect. The back-and-forth panning of the camera, swinging like a pendulum, gives the video some fluidity and rhythm of its own.

I found it funny how Björk blinks her eyes a few times at 2:53, right when the lyrics "Will my eyes be closed or open?" are sung. It seems like a hint that she's actually the speculated (dead?) body that has fallen / thrown itself off the cliff, but due to the unpredictability of the future and overall entropic dynamics doesn't know which of the two possibilities to take. So if she's actually dead (or pretending to be, the fact she can move her eyes and tease the viewer like that might indicate this), the singing digital self might be her ghost reflecting on what brought her there, with the little running and breaking hologram personifying it.

I like the idea that she's sleeping and dreaming too. Since I see the world and lyrics to be illustrative and soaked by her emotions, the exterior might then convolutedly be the territory she's dreaming about, her mental domain, the throbbing lights being phosphenic phenomena accompanying the dream in which her emotional backdrop and struggles interplay, primarily exemplified by the cliff and the "little things" dropping and kinetically scattering over the rocks.
---
Posts: 3714
Joined: Jul 09, 2011
Contact:
There is something artificial- and kind of flat-looking about when she opens her eyes, as if it was also only projected onto her face rather than the organic Björk opening her eyes. But in combination with the particular way the camera swings in those moments I'm reminded of lenticular prints.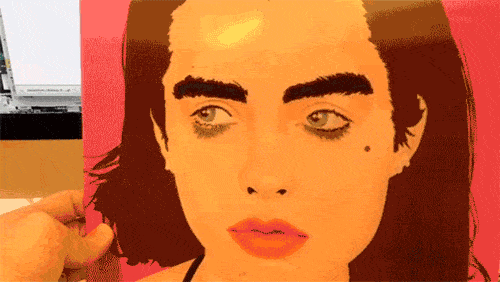 This reinforces the Schrödinger's cat reading. I like the idea of what we see here as digital and electronic being the ghost world (post-cliff self-throwing). Deep down life itself is essentially digital, being that everything in the universe is made up of the same particle that swings, spins (or whatever) differently, so even the digital versus material or organic distinction is a purely artificial one, a human conception of the world that has nothing to do with how reality operates.
---