Posts: 3714
Joined: Jul 09, 2011
Contact:
---
Donator
Posts: 4501
Joined: Feb 21, 2014
Contact:
Terrestrial animals sometimes forget, perhaps due to a mix of fear, arrogance, myopia, naivety and need for anthropocentric appropriation [see figure 1], that aquatic and more Other [sic] realms govern differently (and are most likely inhospitable to us and full of strange creatures [see reference 1 and 1.1]), and that at the intersection between the two distinct substances
refraction
[see reference 2] occurs, a phenomenon that can be extrapolated to include information in its most abstract sense.
Approaching a pool placed away from "home" (which includes away from the conventional conceptual apparatus, simple logico-mathematical wisdom and common sense) might thus be an unusual and frightening experience. Due to
refraction
temporal differences arise, the human subject freezes and vanishes as the environment continues to fluctuate, ghosts & shadows are revealed [see figure 2], the stories of the background are reflected, ones own memories replay, clothes are tarnished, monsters come to chase us when we're trapped [see figure 3]... Is this pool, not then, a cesspool? Who would want to confront such monstrosities and bathe in potentially life-changingly disturbing substance that emanates and reflects that which is hidden, unstructured, lacking rigour?
I mean, you can practically see that in the end the man has become The Terminator, Skynet [see figure 4], which is a step closer to Abstract Horror, that
await their cinematographers
. Or maybe that's just me.
figure 1:
reference 1:
https://twitter.com/NatureisScary/statu ... 2217525249
reference 1.1:
https://twitter.com/0xa59a2d/status/853816830808514560
reference 2:
https://en.wikipedia.org/wiki/Refraction
figure 2:
figure 3:
figure 4: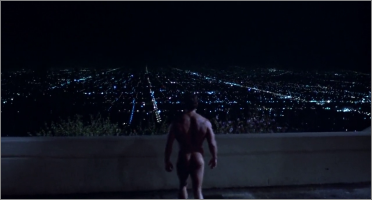 Last edited by
Carmel1379
on May 15th, 2017, 4:57 pm, edited 1 time in total.
---
Posts: 3714
Joined: Jul 09, 2011
Contact:
Carmel1379 on May 15 2017, 10:38:38 AM wrote:Or maybe that's just me.
Well, it's not me anyway. I pretty much just saw the pool for its surface in this case. The surface that reflects light. But also "reflecting pool" as in something to reflect about. It's a film that while using duality ironically made me call into question the notion of duality and made me think deeper than surface level. Everything we see is just light bouncing off of surfaces, who's to say that light bouncing off of water is a falsified version of reality?

That the man in the end steps out of the pool even though we never saw his body properly land in the water is a nice gag to end on that reaffirms the film's metaphysical nature (not that it should have needed it at that point), and the he comes out naked even though he jumps in fully clothed I guess shows the he is somewhat purified now after having done a bit of reflecting on nature, the human structures and rigor have fallen away, but in a good way rather than in an "abstract horror" way. IF he decides to go back to the city or to a biker bar he should put on some clothes again first, obviously.

I dig figure 2 (and 3, of course) and especially reference 1 is great...abstract horror...
---
Donator
Posts: 4501
Joined: Feb 21, 2014
Contact:
It isn't really me either, that is I don't believe this short was going for anything monstrous or horrific (the camera position is fixed and the environment seems generally tranquil and harmonious), it's just that the two people around 4:50 that appear in the water, but don't appear on the ground, reminded me of the second picture, and so I just had to find excuses to post some more. 'Gekijô-ban: Zero/Fatal Frame' is obviously a good example of ponds used for purposes heading into horror.

I was reminded by 'Wavelength', by how there's something happening (that can ostensibly be explained by physical processes, especially those related to waves (reflection, refraction, etc.)) that the viewer cannot quite grasp and must opaquely look at. The past SotD 'Dahlia' also is mainly about "light". The whole of structural cinema probably more or less revolves around this idea of "being in the confines of the camera", such that not everything can be explained (due to the lack of conventional storylines or dialogue) and not everything will be shown (due to the rigid camera). I don't know if 'The Reflecting Pool' is classified as "structural" or not, though.

For some reason the idea that the two people around 4:50 are a memory of the man that appears in the beginning (and end) struck with me (maybe the dead sister's ghost inspired this). Or perhaps they were simply passersby that have been by the pool at an earlier time. And as an attempt to explain that phenomenon was the notion that water reflects light waves at a delayed time, i.e. for the humans the pool is an Other world from which non-human Schwarzenegger emerges..., and so on.

Coming out naked as some form of "purification" and "change", after ones "previous" body is discarded and fading away, is what I was thinking too (which in line with the aforementioned feeling of "tranquility and harmony" indicates change in a "good" sense). But I missed that "reflecting" can also refer to thinking (deeply), nice point, I've obviously insufficiently gone deeper than the surface, I'll have to try to find a pond now.
Last edited by
Carmel1379
on May 15th, 2017, 7:18 pm, edited 1 time in total.
---
Donator
Posts: 4501
Joined: Feb 21, 2014
Contact:
---
Posts: 3714
Joined: Jul 09, 2011
Contact:
Well, it's certainly not far off from structural film but I guess since Viola's medium of choice is video it is just classified as video art like everything else shot on video even though video work is little less varied that what has been done on film, ranging from Bill Viola to Hollis Frampton to O[rphan] D[frift>] which are all obviously very different kind of works. Now that video has become the standard it's certainly time to rethink those classifications, but fuck classifications which tell us little to nothing about the work itself anyway. I guess back in those days the separation still made sense enough, in 1979 'The Reflecting Pool' wouldn't really have been possible to realize on film, video allowed for more or at least different type of image manipulations, now even most movies that are shot on film are finished digitally so all those (and more) manipulations are possible with film now as well, so the line has become blurry if not even non-existent.

'Dahlia' is a good comparison. Obviously it's also shot on video and I haven't rewatched it for the SotD but I guess its spirit also is quite Buddhist. Both films look at one finite space with relatively little intervention from the filmmaker, both for example being concerned with showing the passing of time which also means showing stillness, or what looks to the human eye like stillness anyway. This probably at least partly harks back to the meditation practice of observing something relatively still and letting your thoughts flow. Even if you get bored don't fight the boredom, embrace it, because, you know, nothing is more important than the present moment, etc.

My interest in both present Manson and concert going has waned considerably, but thanks for the heads up anyway.
---
Posts: 3714
Joined: Jul 09, 2011
Contact:
---