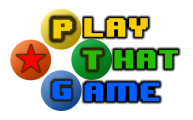 1340+ lists combined to create the TSPDT of video games.
Right, I was going to share this a few days ago but figured that I would wait until Kasparius finished his list. It's been interesting to see how his list compared to the one I ended up making.
So yes, this website has been 2 years in the making and I finally got to sticking this online 2 weeks ago.
I would love to know your thoughts and maybe stir a gaming discussion.
So yes, go to
playthatgame.co.uk
to see this list in action!!!