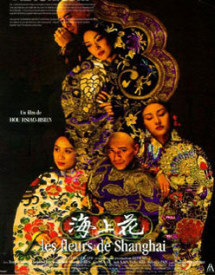 30.
Hai shang hua a.k.a. Flowers of Shanghai (Hsiao-hsien Hou, 1998) [Taiwan]
This film about the interactions between clients and flower girls in a high-end brothel has quite the luxurious pacing as one would imagine from Hsiao-hsien Hou that suits the material. To be honest though, I really struggled with remaining engaged with this one. The structure just felt a little too loose, the narrative a little too elusive.
31.
Chu nu jiang a.k.a. Cannibal Curse (Yeung Kong, 1988) [Hong Kong]
Well, this was awful. i guess it could be entertaining if you get a group of friends together to make fun of it, but then the multiple rape scenes may be a buzzkill anyway.
32.
San xia hao ren a.k.a. Still Life (Zhangke Jia, 2006) [China/Hong Kong]
Like Hsiao-hsien Hou, I struggle with Zhangke Jia's films at times. They are generally gorgeously shot and well-acted, but the pacing is just glacial. At times it works, and I'm not against a slower film despite how I may sound (I actually recently watched and enjoyed Apichatpong Weerasethakul's Syndromes and a Century and you don't get much slower than that). But for some reason, there's a narrative aloofness in Still Life that seemed to be at odds with my mood while watching it. Maybe I need to give it another try in a different mindset? I dunno.
Spoiler

1. Fang Shiyu yu Hong Xiguan a.k.a. Heroes Two (Cheh Chang, 1974) [Hong Kong]
2. Dung che sai duk a.k.a. Ashes of Time (Kar-Wai Wong, 1994)[Hong Hong/Taiwan]
3. Gu a.k.a. Bewitched (Chih-Hung Kuei, 1981) [Hong Kong]
4. Lung men bei chi a.k.a. Bruce's Deadly Fingers (Joseph Kong, 1976) [Hong Kong]
5. Geung si a.k.a. Rigor Mortis (Juno Mak, 2013) [Hong Kong]
6. Sai yau gei: Yut gwong bou haap a.k.a. A Chinese Odyssey Part One: Pandora's Box (Jeffrey Lau, 1995) [Hong Kong/China]
7. Sai yau gei: Sin leui kei yun a.k.a. A Chinese Odyssey: Part Two - Cinderella (Jeffrey Lau, 1995) [Hong Kong]
8. Wong Fei Hung III: Si wong jaang ba a.k.a. Once Upon A Time In China III (Hark Tsui, 1992) [Hong Kong]
9. Dong fu ren a.k.a. The Arch (Shu Shuen Tong, 1968) [Hong Kong]
10. Miao jie gu shi a.k.a. Mean Street Story (Andrew Lau, 1995) [Hong Kong]
11. Flight of the Red Balloon (Hsiao-Hsien Hou, 2007) [Taiwan]
12. Shan zhong zhuan qi a.k.a. Legend of the Mountain (King Hu, 1979) [Taiwan/Hong Kong]
13. Zhan lang a.k.a. Wolf Warrior (Jing Wu, 2015) [China]
14a. Chunyi: Legend of Kung Fu (Su Shijin, 2006) [China]
14b. Big Fish & Chinese Flowering Crabapple (Liang Xuan and Zhang Chun, 2004) [China]
14c. Ouran a.k.a. Accidentally (John Woo, 1968) [Hong Kong]
14d. Hua yang de nian hua (Kar-Wai Wong, 2000) [Hong Kong/China]
15. Ne Zha zhi mo tong jiang shi a.k.a. Ne Zha (Yu Yang, 2019) [China]
16. Gwai wik a.k.a. Re-Cycle (Pang Brothers, 2006) [Hong Kong]
17. Tai gik Cheung Sam Fung a.k.a. Tai Chi Master (Woo-Ping Yuen, 1993) [Hong Kong]
18. Hak se wui a.k.a. Election (Johnnie To, 2005) [Hong Kong]
19. Zhong hua zhang fu a.k.a. Heroes of the East (Chia-Liang Liu, 1978) [Hong Kong]
20. Liàn liàn fengchén a.k.a. Dust in the Wind (Hsiao-Hsien Hou, 1986) [Taiwan]
21. Gong woo a.k.a. Triad Underworld (Ching-Po Wong, 2004) [Hong Kong]
22. Xie mo a.k.a. The Devil (Jen-Chieh Chang, 1981) [Taiwan/Hong Kong]
23. Ai qing wan sui a.k.a. Vive L'Amour (Ming-liang Tsai, 1994) [Taiwan]
24. Ninja Terminator (1985)
25. Long quan she shou a.k.a. Dragon's Showdown (1980)
26. Thunder Ninja Kids in the Golden Adventure (1992)
27. Xi yang tian shi a.k.a. So Close (2002)
28. Hak se wui: Yi woo wai kwai a.k.a. Triad Election (Johnnie To, 2006) [Hong Kong]
29. Shi yue wei cheng a.k.a. Bodyguards and Assassins (Teddy Chan, 2009) [China/Hong Kong]
30. Hai shang hua a.k.a. Flowers of Shanghai (Hsiao-hsien Hou, 1998) [Taiwan]
31. Chu nu jiang a.k.a. Cannibal Curse (Yeung Kong, 1988) [Hong Kong]
32. San xia hao ren a.k.a. Still Life (Zhangke Jia, 2006) [China/Hong Kong]