wikipedia wrote:Blaxploitation or blacksploitation is an ethnic subgenre of the exploitation film that emerged in the United States during the early 1970s. The films, while popular, suffered backlash for disproportionate numbers of stereotypical film characters showing bad or questionable motives, including criminals, etc. However, the genre does rank among the first in which black characters and communities are the heroes and subjects of film and television, rather than sidekicks or villains or victims of brutality. The genre's inception coincides with the rethinking of race relations in the 1970s.

Blaxploitation films were originally aimed at an urban African-American audience, but the genre's audience appeal soon broadened across racial and ethnic lines. Hollywood realized the potential profit of expanding the audiences of blaxploitation films across those racial lines.

Variety credited Sweet Sweetback's Baadasssss Song and the less radical, Hollywood-financed film Shaft (both released in 1971) with the invention of the blaxploitation genre. Blaxploitation films were also the first to feature soundtracks of funk and soul music.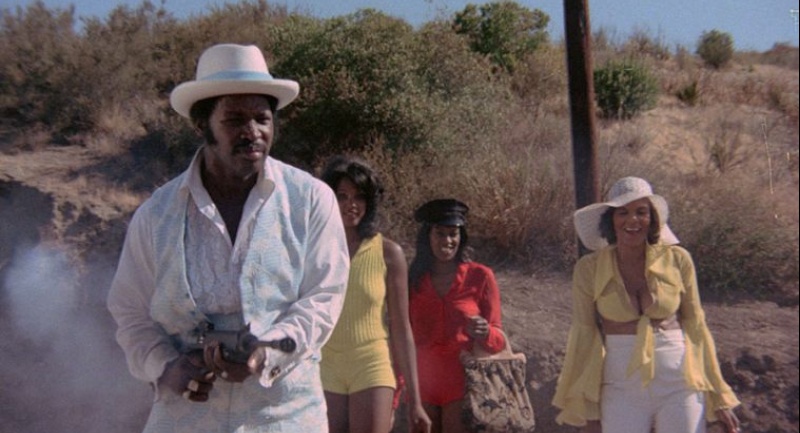 What Exactly Is African-American Cinema?
Far be it from me to actually define what African-American Cinema is. So I'll offer up the following (taken from an introduction to an essay on this very topic):
The category "African American Cinema" presents important conceptual challenges for scholars, critics, and moviegoers. Before laying out those challenges, though, it is important to note that African American cinema is often thought of as part of American cinema, while at the same time, African American cinema is also often thought of as part of a global black diasporic cinema. Consequently, other articles in this bibliography that focus on elements of American cinema include entries relevant to research on African American cinema, and many articles on non-US cinemas—for example, African Cinema, British Cinema, Cuban Cinema, and Transnational and Diasporic Cinemas—include entries relevant to researching topics in "black cinema." Now back to the conceptual challenges African American cinema presents: To clarify these challenges, think about three prepositions: by, of, for. Does African American cinema mean films made by African Americans? If so, who are the key figures in the making: director, writer, performers, producers, financiers? Does it matter if the finance comes from Hollywood or independent sources? If a researcher is interested in "by," then the articles on Authorship and Auteur Theory and on the black directors Charles Burnett, Spike Lee, and Oscar Micheaux, and actor- director Sidney Poitier, may be of interest. Does African American cinema mean films of—films that depict—African Americans? If so, must such depictions make an African American a central figure? Must that figure be "positive" or "realistic" or, indeed, performed by an actor who would self-identify as African American or black? If a researcher is interested in "of," see also The Birth of a Nation, The Jazz Singer, King Kong, and more general categories like blackface, blaxploitation, Exploitation Film, Pop, Blues, and Jazz in Films, Race and Cinema, and African American Stars. Does African American cinema mean films that seem to be for African Americans—films that aim to address or appeal to African American moviegoers or films that, by whatever measures (say, box office success or critical approbation by black critics), succeed with African American audiences? If a researcher is interested in "for," see also Exhibition and Distribution and also entries on various genres and modes of filmmaking. Underlying many of the critical and scholarly studies of African American cinema are additional questions of—and passionate arguments about—how politics, activism, social connections and commitments, aesthetics, pleasure, entertainment, art, and commerce interrelate with one another—and how they should interrelate with one another. This article does not favor one position in these debates over another, but aims to present a range of positions in the scholarship on African American cinema.

-

source
How Will This Challenge Be Judged?
Any film that illustrates the African American experience in America would be acceptable for this challenge.
But if you need any pointers. The lead(s) should be African American. And to make the movie more "woke" either the director, screenwriter or original author should also be african american.
Rules:
- Rewatches allowed.
- A feature film (at least 40 min) counts as one entry.
- A total of 60 minutes of short films count as one entry.
- For TV/mini-series, the usual 40/60 rules apply.
- And not neccessary to post NSFW pictures. I will read this forum on the bus.
Stats & Formatting:
- Original title (year) is the preferred format.
Year is neccessary
. Probably not many akas in this challenge, but do make a note if you use another title than the one on imdb/originally released as. If the original title uses the N-word I would actually prefer you using the aka.
- For TV episodes, please use "Series Title: Episode Title" as the title
- New posts are preferred over edited posts
Official Lists:
Still none
African-American Cinema Lists:
http://www.library.ufl.edu/spec/belknap ... nemaaa.htm
<-- Max really like this list.
http://www.listchallenges.com/100-must- ... ican-films
https://www.ranker.com/crowdranked-list ... ack-movies
https://www.icheckmovies.com/lists/slat ... /monoglot/
(via 3eyes)
https://www.icheckmovies.com/lists/28+d ... rodosonix/
(via 3eyes/frbrown)
Netflix African American Cinema collection:
https://www.netflix.com/title/80161851
Unofficial lists and other resources
mostly stolen from max, thanks for hosting last time
Record:
Held once before in 2018, psychotronicbeatnik has the highest score with 62.
Bonus Challenge:
See at least one movie with:
Mainly actors:
Ruby Dee, Pam Grier, Rudy Ray Moore, Sidney Poitier, Richard Roundtree, Octavia Spencer, Denzel Washington, Fred Williamson,
Writer:
Mara Brock Akil,
Directors:
Charles Burnett, Spike Lee, Oscar Micheaux, Dee Rees, John SIngleton or Melvin Van Peebles for a max of 15 points. To enter the bonus challenge write: bonus and name - ex. [bonus:Singleton] after the title.
| | | | | | | | | | | | | | | | | | |
| --- | --- | --- | --- | --- | --- | --- | --- | --- | --- | --- | --- | --- | --- | --- | --- | --- | --- |
| Rank | Participant | VIP | Dee | Grier | Moore | Poitier | Rondtree | Spencer | Washington | Williamson | Akil | Burnett | Lee | Micheaux | Rees | Singleton | VP |
| 1 | psychotronicbeatnik | 5 | - | X | - | - | - | - | - | X | - | - | - | X | - | X | X |
| 2 | albajos | 4 | - | X | X | X | - | - | - | X | - | - | - | - | - | - | - |
| 3 | cinephage | 1 | - | - | - | - | - | - | - | - | - | - | - | - | - | - | X |
| | | | |
| --- | --- | --- | --- |
| Rank | Participant | Points | Pers. rec. |
| 1 | psychotronicbeatnik | 81 | 81 |
| 2 | flavo5000 | 43 | 43 |
| 3 | sol | 39 | 39 |
| 4 | jdidaco | 38 | 38 |
| 5 | India Istanbul | 29 | 45 |
| 6 | albajos | 26 | - |
| 7 | maxwelldeux | 17 | 42 |
| 7 | RogerTheMovieManiac88 | 17 | 17 |
| 9 | allisoncm | 14 | 14 |
| 9 | blocho | 14 | 14 |
| 11 | jeroeno | 13 | 16 |
| 12 | sebby | 12 | 25 |
| 13 | blueboybob | 10 | - |
| 13 | OldAle1 | 10 | 20 |
| 15 | cinephage | 7 | 7 |
| 16 | ororama | 5 | - |
| 17 | hurluberlu | 4 | 9 |
| 18 | 3eyes | 3 | 9 |
| 18 | vortexsurfer | 3 | - |
| 20 | AB537 | 2 | - |
| 21 | shugs | 1 | - |
| 21 | Teproc | 1 | - |
| 21 | weirdboy | 1 | 4 |
| 21 | zzzorf | 1 | - |
| | | | |
| 24 | | 391 | 16,29 avr. |
bonus challenge updated to post #82