FTV:16:The Good Liar (2019) 6.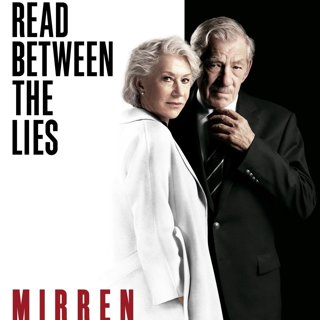 "(Hey god) can this world really be as sad as it seems?,Terrible lie,Terrible lie."
With director Bill Condon working with the actor for the 4th time, Sir Ian & Dame Helen set sparks flying on the screen in their snappy, thickly sliced hammy turns as Roy and Betty. Making his first encounter with Betty after double crossing on a big money deal, Sir Ian breezily presents Roy initially as a jolly old gent, whose polite manner Sir Ian cuts into a Noir prickliness when doubts are made about his real image. Welcoming Roy into her home from their first meeting, Dame Helen clearly takes great delight in darting Betty round as a silly old dear, until she takes a hard turn which Dame Helen plays with relish.
For the establishing of the biggest twist in the film, director Bill Condon reunites with cinematographer Tobias A. Schliessler,and they both disappointingly miss the mark in creating a atmosphere of anticipation to the revelations,with the only hint as to what awaits that Condon offers being two jump-cuts that come off not as suspenseful,but end of the reel leftovers. Bringing a Noir viciousness out of Roy on lingering close-ups to his scared face, which is wiped for a teatime TV Mystery atmosphere in glossy panning shots round the couple round Betty's home. Introducing Roy as a unknown guests,Jeffrey Hatcher's adaptation of Nicholas Searle's novel at first houses a slick Noir mystery,where the ruthlessness of Roy's backstabbing is neatly paired up with the false warmth he gives Betty. Leaving the lone sliver of foreshadowing being off the cuff remarks the couple make on their first date, Hatcher aims the major twists for the wow,but instead hits the "Huh!",due to them dumped in absurdly random moments,with Condon and Hatcher having failed to lay the groundwork to what makes a good liar.