Welcome to the 2019 Official Japan Challenge !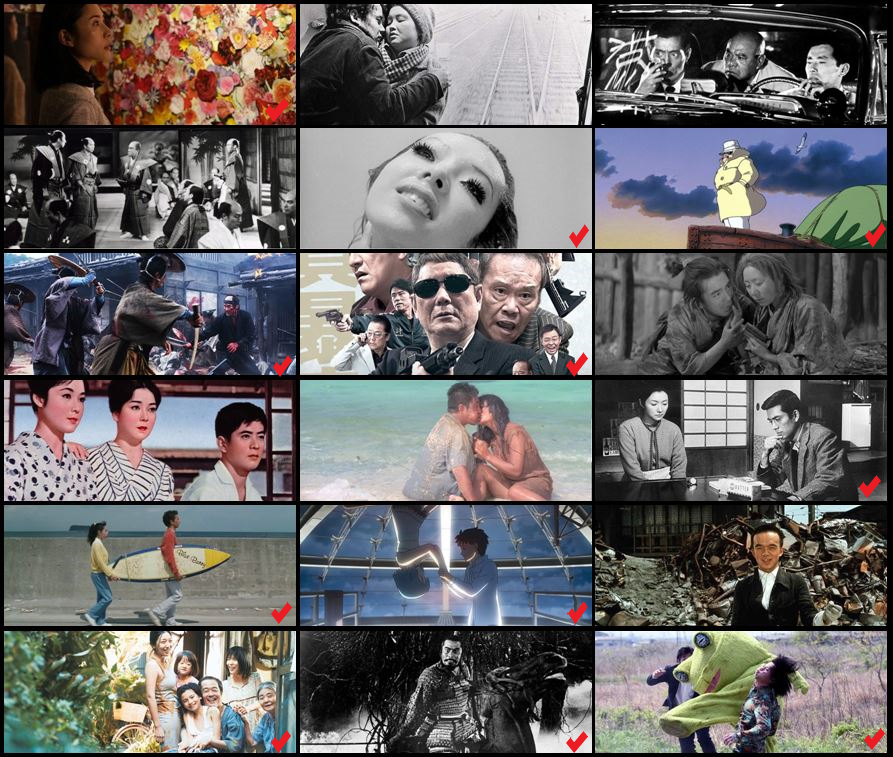 Goal:
Watch as many films from Japan as you can.
Challenge runs
1 September 2019 - 30 September 2019
.
Rules:
- Rewatches allowed.
- A feature film or a mini-series episode (at least 40 min) counts as one entry.
- A total of 60 minutes of short films or mini-series episodes (less than 40 min) count as one entry.
- A total of 120 minutes of TV episodes count as one entry.
Posting and Fair-play:
- #. English Title (director, year) is the preferred format
- Don't edit your film count in a post created before the latest update of the OP
- Post regularly if you hit top 5
If you are new, check out the
Basic rules thread.
Side Challenge:

Banzai

!!!
Be the first to complete all the Banzai challenge tasks
Side Challenge Rules

Tasks (points):
- Guess 4 films from the OP Poster. Stills are numeroted from 1 to 18 from left to right and top to Bottom. (4)
- Watch one film from Takashi Miike (1)
- Watch one film with Machiko Kyô (1)
- Watch three films from the Official and Non-Official lists mentioned in the OP (3)
- Watch four films from four different decades (4)
- Watch a film with a character watching the horizon and post the still (1)
- Watch a film in theater (1)

Rules:
First to complete the challenge (15 points) wins, based on posting time stamp. Ranking based on points and posting time.
You may report your progress in your regular postings covered by a spoiler (don't share your guesses before final submission). Shout when you post your final submission - no second chance for stills guesses.
Once a still has been correctly guessed by a poster, it cannot count anymore for any other poster (guess others).
Report films you watched for each task - a film can only count for one task.
I will participate but not compete (obviously).
Stuck for ideas of what to watch? Look no further:
Official Lists
| | | | |
| --- | --- | --- | --- |
| Rank | Change | Participant | Count |
| 1 | - | flavo5000 | 153 |
| 2 | - | Traveller | 84 |
| 3 | - | 72allinncallme | 79 |
| 4 | - | St. Gloede | 50 |
| 4 | - | jdidaco | 50 |
| 6 | - | jeroeno | 41 |
| 7 | - | fori | 35 |
| 8 | - | Ritesh | 34 |
| 9 | - | morrison-dylan-fan | 32 |
| 10 | - | vortexsurer | 30 |
| 11 | - | Lonewolf2003 | 25 |
| 11 | - | shugs | 25 |
| 13 | - | edward5 | 23 |
| 14 | - | weirdboy | 21 |
| 15 | - | sol | 20 |
| 16 | - | hurluberlu | 17 |
| 17 | - | allisoncm | 16 |
| 18 | - | frbrown | 12 |
| 18 | - | AB537 | 12 |
| 18 | - | cinephage | 12 |
| 21 | - | maxwelldeux | 11 |
| 21 | - | Onderhond | 11 |
| 23 | - | blocho | 9 |
| 24 | - | DareDaniel | 8 |
| 25 | - | sebby | 7 |
| 26 | - | wasabi | 6 |
| 27 | - | 3eyes | 5 |
| 27 | - | Knaldskalle | 5 |
| 27 | - | albajos | 5 |
| 30 | - | ororama | 4 |
| 30 | NEW | RogerTheMovieManiac88 | 4 |
| 32 | -1 | zzzorf | 3 |
| 33 | -2 | blueboybob | 2 |
| 34 | -1 | Daviddoes | 0 |
Banzai

!!! Side Challenge
| | | | |
| --- | --- | --- | --- |
| Rank | Participant | Points | Timestamp |
| 1 | shugs | 14 | 13/09/2019 10:02 |
| 2 | Traveller | 12 | 19/09/2019 18:14 |
| 3 | flavo5000 | 10 | 01/10/2019 04:58 |
| 4 | maxwelldeux | 9 | 01/10/2019 09:20 |
| 5 | jdidaco | 8 | 30/09/2019 06:53 |
| 5 | albajos | 6 | 01/10/2019 10:24 |
| 6 | Onderhond | 2 | 01/10/2019 20:29 |