I Was A Double Feature:
Fifties Shades of Grey

1. I Married a Monster from Outer Space (1958)

2a. Social-Sex Attitudes in Adolescence (1953) 23mins

2b. Are You Ready for Marriage? (1950) 16mins

2c. How Do You Know It's Love? (1950) 13mins

2d. Tomorrow's Drivers (1954) 11mins = 63mins

3. Peyton Place (1957)

4. Picnic (1955)

5. Dracula (1958)

6. Fabulous World of Jules Verne (1958)

7.

Seven

Brides for

Seven

Brothers (1954)

8

. H-

8

... (1958)

9. Macao (1952)

10

. The

Ten

Commandments (1956)

11. Kansas City Confidential. (1952)

12. High School Confidential! (1958)

13. Beast from Haunted Cave (1959)

14. Cattle Queen of Montana (1954)

15. Cat-Women of the Moon (1953)

16. The Axe of Wandsbek (1951)

17a. Zipping Along (1953) 7mins

17b. Hot-Rod and Reel! (1959) 6mins

17c. Gerald McBoing-Boing (1950) 7m

17d. Mirror of Holland (1950) 9mins

17e. Monsieur Tête (1959) 13mins

17f. Rooty Toot Toot (1951) 8mins

17g. Moonbird (1959) 10mins =60min

18a. When Angels Fall (1959) 21mins

18b. Two Men and a Wardrobe (1958) 15mins

18c. Usmiech zebiczny (1957) 2mins

18d. Lev a písnicka (1959) 15mins

18e. Lampa (1959) 7mins = 60mins

19. Repertory Theatre: Marty (1953)

20.

20

Million Miles to Earth (1957)

21. Zombies of the Stratosphere (1952)
22. I Was a Teenage Frankenstein (1957)
An updating of Mary Shelley's classic tale that feels very rushed with some silly coincidences and not enough time dedicated to the monster grappling with his ghastly appearance and identity. The film is boosted by a solid turn by Whit Bissell as the scientist though, raving like a madman at times and dropping callous insults into even the most casual conversations. His home alligator pit is pretty nifty too and the brief colour use here is great.
23. I Was a Teenage Werewolf (1957)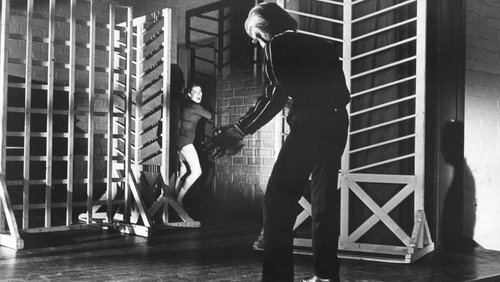 The title and out-there premise have some promise, but it takes an awfully long time before the protagonist here transforms. How the hypnotherapist believes that regressing to an animal-like state will help the youth is poorly explained too; same goes for how exactly it turns him into a werewolf. For all its vices though, the film has creepy makeup, the occasional cool upside down shot and an almost acute portrait of teenage angst.