Schlock Gone By


Triple-feature of 1950s US Science Fiction - all Double Word Scores being on the SF/Fantasy challenge as well:

1. Unknown World (Terry O. Morse, 1951) 3.9 IMDb rating
2. Mesa of Lost Women (Ron Ormond/Herbert Tevos, 1953) 2.5 IMDb rating
3. Cat-Women of the Moon (Arthur Hilton, 1953) 3.7 IMDb rating

Triple-feature of 1980s Australian Science Fiction - all Triple Words scores on the SF/Fantasy and Oceania challenges

4. Sky Pirates (Colin Eggleston, 1986) 4.2 IMDb rating
5. Starship (Roger Christian, 1984) 3.4 IMDb rating
6. The Time Guardian (Brian Hannant, 1987) 4.3 IMDb rating

60s Italian Triple Feature

7. La strada per Forte Alamo / The Road to Fort Alamo (Mario Bava, 1964) 5.0 IMDb rating
8. Space-Men / Assignment Outer Space (Antonio Margheriti, 1960) 3.4 IMDb rating
9. Il pianeta degli uomini spenti / Battle of the Worlds (Antonio Margheriti, 1961) 4.3 on IMDb

More American schlock from the past 30 years:

10. Nightfall (Paul Mayersberg, 1988) 2.4 IMDb rating
11. Independence Day: Resurgence (Roland Emmerich, 2016) 5.2 IMDb rating
12. Cherry 2000 (Steve DeJarnatt, 1987) 5.4 IMDb rating

Continuing in the sewers of sci-fi, with 2 from W. Lee Wilder, Billy's older and significantly less-talented bro:

13. Phantom From Space (1953) 4.0 on IMDb
14. Killers from Space (1954) 3.1 on IMdb

Roger Corman and His Disciples 3fer:

15. The Wasp Woman (Roger Corman/Jack Hill, 1959) 4.6 on IMDb
16. Voyage to the Prehistoric Planet (Curtis Harrington/Pavel Klushantsev (uncr), 1965) 3.6 on IMDb
17. Voyage to the Planet of Prehistoric Women (Peter Bogdanovich as Derek Thomas, others uncredited, see below, 1968) 2.7 on IMDb

rounding out the day with an American Eurospy, or something

18. Agent for H.A.R.M. (Gerd Oswald, 1965) 2 on IMDb

more from the endless piles of 50s American sci-fi stupidity

19. Terror from the Year 5000 (Robert J. Gurney Jr., 1958) 2.5 on IMDb
20. War of the Satellites (Roger Corman, 1958) 5.0 on IMDb
21. From the Earth to the Moon (Byron Haskin, 1958) 5.1 on IMDb

another trio of crap from Downunder

22. Incident at Raven's Gate (Rolf de Heer, 1988) 5.4 on IMDb
23. Lost: The Black Earth (James Cole, 2004) 4.3 on IMDb
24. Angel Mine (David Blyth, 1978) 5.0 on IMDb

Four genres of crap from two years and two countries in the 1950s

25. The Brain Eaters (Bruno VeSota, 1958) 4.0 on IMDb
26. Bullwhip (Harmon Jones, 1958) 5.1 on IMDb
27. La momia azteca contra el robot humano / The Robot vs. the Aztec Mummy (Rafael Portillo, 1958) 2.3 on IMDb
28. Prisoners of the Casbah (Richard Bare, 1958) 5.4 on IMDb

1970s-80s: Action! Crime! Action! Spies! Action! Nazis! Action! Baboons! Action?

29. Laser Mission (BJ Davis, 1989) 3.5 on IMDb
30. Mitchell (Andrew V. McLaglen, 1975) 2.4 on IMDb
31. Order of the Black Eagle (Wolf Keeter, 1987) 4.5 on IMDb

1970s time-travel adventures

32. The Time Machine (Henning Schellerup, 1978) 5.3 on IMDb
33. Idaho Transfer (Peter Fonda, 1973) 5.4 on IMDb

to the center of the earth and to alien brains

34. Alien from L.A. (Albert Pyun, 1988) 3.1 on IMDb
35. Journey to the Center of the Earth (Albert Pyun/Rusty Lemorande, 1988) 2.8 on IMDb
36. The Brain from Planet Arous (Nathan Juran, 1957) 5.3 on IMDb

Eurospies and Asian?-American martialartsvideogame action

37. New York chiama Superdrago / Secret Agent Super Dragon (Giorgio Ferroni, 1966) 2.0 on IMDb
38. Operazione Goldman / Lightning Bolt (Antonio Margheriti, 1966) 4.9 on IMDb
39. Il raggio infernale / Danger!! Death Ray (Gianfranco Baldanello, 1967) 2.2 on IMDb
40. Double Dragon (James Yukich, 1994) 3.7 on IMDb

2 Cormans and a Maniac

41. Gunslinger (Roger Corman, 1956) 3.1 on IMDb
42. The Saga of the Viking Women and Their Voyage to the Waters of the Great Sea Serpent (Roger Corman, 1957) 2.8 on IMDb
43. Maniac (Dwain Esper, 1934) 3.4 on IMDb

Blaxploitation! a few "educational" (but really propaganda) shorts, and more schlock sci-fi from the 80s

44. Mean Johnny Burrows (Fred Williamson, 1976) 5.0 on IMDb
45. Lady Cocoa (Matt Cimber, 1975) 4.7 on IMDb
46. Mandinga (Mario Pinzauit, 1976) 3.2 on IMDb
47. SHORTS average rating 4.225 on IMDb 61 minutes total
a) Girls Beware (1961)
b) The Terrible Truth (1951)
c) LSD: Insight or Insanity (1967) l
d) Know for Sure (1941)

48. Prisoners of the Lost Universe (Terry Marcel, 1983) 3.7 on IMDb
More sci-fi and some spy babes
49.
Robot Holocaust
(Tim Kincaid, 1986)
2.1
on IMDb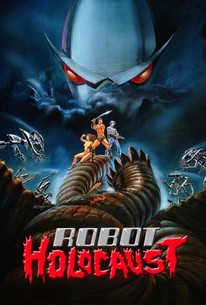 A portentous narration describes how there is one city remaining in "New Terra" after the robots took over - as the camera shows us 1980s New York City, without a trace of effort made to have it look ruined or different. Throughout the early part of the film we get occasional low-angle shots from piles of dirt with just a couple of skyscrapers visible behind them - I guess these are supposed to make us think that we're seeing a "ruined city" or something? That gives you an idea of the amount of imagination and effort that went into this fiasco, conceivably the worst SF film of the last 40 years or so that I've seen - and I've seen a lot. Basically a group of rebels infiltrate the "Power Station" (what a creative name!) to destroy the "Dark One" who is apparently some kind of AI (it's not explained well) who can merge with humans and machines and...I don't know. There's scenes in tunnels, there's a fair amount of beefcake on display (director Kincaid is better known as gay porn star/director Joe Gage), and there's very poor, listless acting, with Angelika Jager giving the standout potential worst-of-all-time performance as the Dark One's principle human servant Valaria. You have to see her to believe her, I really don't know how to describe it. The fight scenes are also among the worst I've ever seen and the under-80 minute film seems well over 2 hours. I could suggest that the color isn't bad - but it's no better than the color in most 80s SF films so I don't think it deserves points for that. I have to give this a
1
, and while it's hilarious at moments I think it may be too tedious to really rule in the so-bad-it's-good category.
50.
D.E.B.S.
(Angela Robinson, 2004)
5.3
on IMDb
Basically a lesbian spy-fantasy with a bunch of gorgeous 20something "DEBS" (I don't remember or care what the acronym stands for) hunting super-bad-girl Jordana Brewster until one of them falls in love with the evil genius. This is very tame and dull stuff, though it does do one interesting thing which is to sort of posit an alternate world in which young nubile schoolgirl-dressed women are the chief law enforcement agents in society - but it really doesn't go anywhere with it and so it all just seems a silly wet dream fantasy in the end. But without any nudity or quality violence, so it's just kind of blah. I like Brewster, even in a cheesy flick like this, and she sure does look good in black, and it's a nice looking film, but I can't give it more than
4
.
51.
Skyline
(Strause brothers, 2010)
4.4
on IMDb
This is more recent and probably more familiar so I'll dispense with it quickly. I saw it described as "Independence Day meets Transformers" which to my mind isn't really accurate, though "Independence Day meets War of the Worlds" is closer to the mark. What the aliens do to people when they invade L.A. (and presumably everywhere else) is kind of interesting and the only slightly original element here - but you don't find that out until the very end. Instead we have a bunch of really dull, incredibly un-developed characters (the 3 women in particular are: a wife/girlfriend, another wife/girlfriend, and an employee/girlfriend - that is literally all we ever know about them) who run around trying to escape being killed for an hour and a half. They're all dull and irritating and I didn't care what happened, and the FX are mediocre (though I guess good given the low budget) and it's an ugly colorless piece of crud.
3
because the ending was vaguely interesting.
52.
Space Mutiny
(David Winters/Neal Sundstrom, 1988)
2.0
on IMDb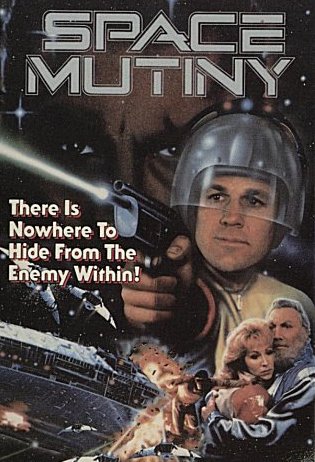 The first thing that will become apparent to anybody who knows their SF - their TV SF - is that the exterior shots/effects of the spaceships in this film are
entirely
lifted from the original 1970s "Battlestar Galactica". Whether they were stolen or there was a fee paid to use them, I don't know, and the guys on RedLetterMedia who made me aware of this didn't seem to know either. Like
Robot Holocaust
this is very lazy, cheap filmmaking with those stolen/lifted FX, a couple of recycled very cheap sets for the bridge and other rooms on the spaceship that is our setting, an obvious real factory interior (with sunlight coming through the windows - in space!) being used for the engineering room, etc. At least the title is accurate - security officer John Philip Law mutinies, trying to force the ship to be sent on a new course, and heroic Reb Brown and commander's daughter and doctor Cisse Cameron (Brown's real-life wife) try to stop him. We also have Cameron Mitchell as the cmmander but he doesn't get to do much. The differences between this and
Robot Holocaust
are instructive: this actually has something of a story, a fairly clear if simple narrative, some acting that isn't bottom-of-the-barrel, and a couple of fight scenes and stunts that are just mediocre, not horrible. So this gets a
2
just for being clearly better than RH in so many ways. Plus Cisse Cameron is very cute and overall this was bad enough to be amusing, and had enough action to not be totally dull. I think it hits the so-bad-it's-good mark pretty well.
53.
The Killer Shrews
(Ray Kellogg, 1959)
3.8
on IMDb
Another 50s mad scientist (well, he's not really mad, but his creation is) flick that is reasonably well put together, not that poorly acted, but shelled with a really bad rep primarily because of the terrible FX, in this case hand puppets or dressed-up-dogs as the titular giant rodents. Boat captain James Best brings supplies to an island and has to wait out a hurricane, but finds that a couple of scientists (the leader having a lovely daughter of course) have created giant mutant shrews that will eat anything and put all their lives in danger. While there was too much boring conversation early on, and the shrews are indeed idiotic, this does a decent job as an intense narrative if you can forget all the crap. That may not be possible of course, and even a generous rater like me isn't going to give it any higher than a
5
.
Average IMDb rating so far (53): 3.88
Average OldAle rating so far (53): 3.893