Welcome to the 2018 iCheckMovies Film Festival!
Festival Dates: Nov. 1-30
Please rate the films the films you've seen on a scale from 1-10 to help contribute to this year's

Audience Award

.
(Ratings are due by the end of the month to be counted)
This is the thread where all users can rate and discuss the films in this year's
International I
,
II
,
III
, and
IV
sections:
International I: Latin America
Aquarius
dir. Kleber Mendonça Filho. 2016, 146 min.

Filho astonished critics worldwide with his debut feature
Neighboring Sounds
, immediately establishing him as a director to watch. His follow-up,
Aquarius
, fully cements him as one of arthouse cinema's auteurs. Sonia Braga stars in a majestic performance as a widow who refuses to sell her apartment to developers.
Ixcanul
dir. Jayro Bustamente. 2015, 93 min.

In this gorgeous, ethnographically fascinating story set among the Maya-speaking people in Guatemala, a Kaqchikel girl living on an active volcano dreams of escaping to another world when her parents arrange a marriage for her.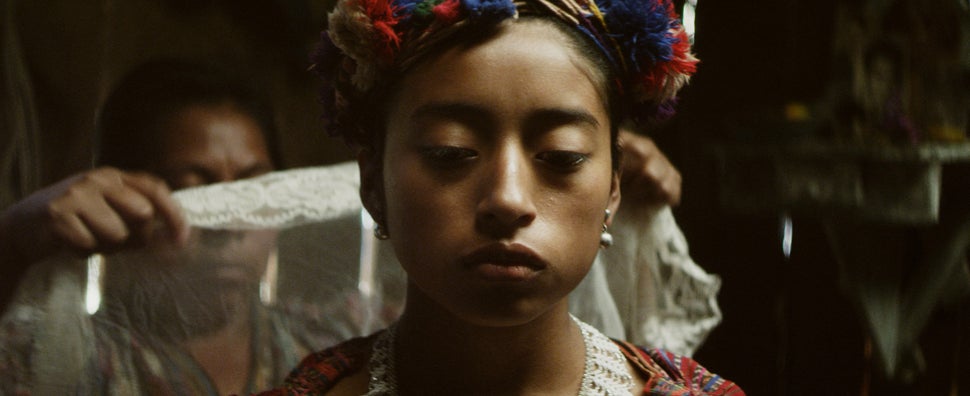 The Chosen Ones
dir. David Pablos. 2015, 105 min.

A brutally unsentimental slice of Mexican neorealism, Pablos directs the story of teen Ulises who falls for a girl he is forced to entrap into his family's prostitution ring.
I Dream in Another Language
dir. Ernesto Contreras. 2017, 103 min.

Channeling the mystical and eerie spirit of Apichatpong Weerasethakul, Contreras directs a spellbinding drama of the last two men who speak a forgotten indigenous language, and an academic's attempt to discover why they refuse to speak to one another.
From Afar
dir. Lorenzo Vigas. 2015, 93 min.

When a wealthy, voyeuristic middle-aged man receives a beating from a teenage gang member, it leads to a surprising connection between the two in this dark romance, which won the Golden Lion at Venice.
Neon Bull
dir. Gabriel Mascaro. 2015, 101 min.

Exuding "frank sexuality and unforgettable imagery" (Peter Debruge), Mascaro (
August Winds
)'s festival favorite focuses on a vaqueiro who performs in the ultra-macho world of Brazilian rodeo, but who maintains a secret dream of a career in fashion.
International II: Europe
1945
dir. Ferenc Török. 2017, 91 min.

In this black-and-white Hungarian drama, two strangers arrive in a small village whose presence unleash a chain of events that force the village to reckon with its wartime crimes.
Les Cowboys
dir. Thomas Bidegain. 2015, 104 min.

Bidegain's contemporary update of
The Searchers
finds a racist, country-western obsessed Frenchman's life upended when his teenage daughter runs away with a radicalized Muslim classmate. The decade-and-country-spanning search he and his son undergo looking for her will challenge their black-and-white vision of the world.
My Golden Days
dir. Arnaud Desplechin. 2015, 123 min.

Master director Desplechin (who directed previous festival winner
Jimmy P
) stages his genre-bending coming-of-age story in three distinct chapters, careening unexpectedly from miniature Cold War thriller to bittersweet epic romance.
The Measure of a Man
dir. Stéphane Brizé. 2015, 91 min.

The incomparable Vincent Lindon stars in this formally rigorous portrait of a middle-aged factory worker forced to apply for retail jobs when he is laid off, as Brizé detailins the cruel, stupid and degrading world of retail employment in agonizing, furious detail.
Home
dir. Fien Troch. 2016, 103 min.

This tough, uncompromising tale of damaged teens and their fractured relationships with their parents in today's Belgium is shot in Academy ratio suggestive of Instagram and other social media platforms.
Layla M
dir. Mijke de Jong. 2016, 98 min.

A controversially empathetic portrait of how a teenage Muslim girl in Amsterdam could be radicalized into marrying someone who joins ISIS, even as the protagonist of the title realizes too late that the world she's joined is no place for a strong-willed woman and that she might be in over her head.
International III: Africa
Clash
dir. Mohamed Diab. 2016, 107 min.

The critical darling of the 2016 Cannes Film Festival,
Clash
is a nail-biting Egyptian thriller set during the 2013 protests, contained entirely within a police van, jam packed with Muslim Brotherhood and pro-Military activists carelessly thrown together. The prisoners are threatened by police beatings and hosings, heat exhaustion, snipers, outside rioters, and the constant threat of internal strife.
Félicité
dir. Alain Gomis. 2017, 129 min.

A bar singer in Kinshasa desperately tries to raise money to help her son after he gets in a motorcycle accident in this musically oriented drama from Senegal.
I Am Not a Witch
dir. Rungano Nyoni. 2017, 93 min.

Nyoni mixes humor and pathos in this absurdist tale of an 8-year-old Zambian girl accused and convicted of witchcraft and sent to a "witch camp" to be contained from the rest of society--and ogled at by tourists.
Lamb
dir. Yared Zeleke. 2015, 94 min.

Shades of De Sica are present in this poetic, beautiful film about a young Ethiopian boy who runs away with his pet lamb to save it from slaughter.
Wùlu
dir. Daouda Coulibaly. 2016, 95 min.

A young man, egged on by his greedy sister, becomes embroiled in the Malian drug ring, ascending from poverty to riches at the cost of his soul in this satirical, politically-minded crime drama.
International IV: Asia and Oceania
First They Killed My Father
dir. Angelina Jolie. 2017, 136 min.

Jolie lends a visually stunning eye to this true story of author and human rights activist Loung Ung who survived the "killing fields" under the Khmer Rouge as a child.
Heart Attack
dir. Nawapol Thamrongrattanarit. 2015, 130 min.

An unusually mature romantic comedy evolves into a dark portrait of an addictive personality in this Thai dramedy about an obsessed workaholic who starts to exhibit strange medical symptoms as he tries to push himself to new records of time spent without sleeping.
Interrogation
dir. Vetrimaaran. 2015, 117 min.

One of the top-rated Tamil movies on IMDb, this critically-acclaimed and furious political thriller is the true story of four Tamil laborers tortured by the authorities to try and get them to confess to a theft they did not commit.
Office
dir. Johnnie To. 2015, 119 min.

Johnnie To turns his attention from crime thrillers to satirical office musicals in this brilliant send-up of the 2008 financial crisis, featuring incredibly designed experimental sets and showstopping numbers.
Tanna
dir. Martin Butler and Bentley Dean. 2015, 104 min.

This Oscar-nominated tribal fable comes from the island of Vanuatu, where Romeo-and-Juliet-like star-crossed lovers ignite tensions between two feuding clans.